Customer Demanded Replacement Of All Caps In Cambridge CD Player CD6!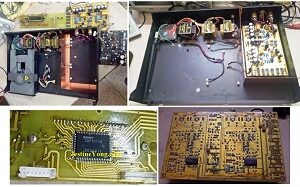 This working set was brought to me by a regular customer with a request that I replace all the electrolytic caps in the CD Player and make the performance better. Well, I have no surprise as this customer knew from his experience with me that replacement of all caps prolong the life of a device apart from rendering considerable improvement in quality and performance. Our association is touching almost ten years now (2014 to 2023)!
I opened the set and dismantled every board (Main Board, Amplifier Board and front panel) cleaned the inside thorougly. The set had three transformers for supplying DC voltages to each section. Let's have a look:

While replacing the capacitors one by one, I just checked the value of a few of them. Following was the result, justifying the action taken:

After that, I lubricated the tray unit and replaced the belt of loading motor, as it was sluggish, though worked. Retouched the board thoroughly as some of the solder joints were dry. Rechecked for any self-made mistakes like polarity change, solder touching the adjacent track etc. The work was very enjoyable mainly because of the uniqueness of the set. Provided inter connectors for the Amp outs which were originally directly wired to the rear, to enable easy dismantling in future.

After fixing everything back, when I tried the CD Player, the output had distortions, which I traced to intermittent minus supply to the amplifier section due to improper contact of a replaced cap, at the top of the board on the double sided PCB. Rectified the defect, upon which it worked very well. Unlike the modern CD Players, this set had wires for the eye unit, which was an additional load for the sliding motor.
On further testing of the player, it was noticed that after playing around 4 to 5 tracks, it got stuck there and further movement was not taking place. So, I removed the tray, dismantled the sliding portion and looked for the reasons and found that one gear wheel was broken:

I had a similar mechanism in my old collection but the gear wheel did not suit. So, I removed the gear, put a tight wire around it, where it does not contact the other wheel and applied superglue and allowed it to bond very well. Though the patch work was not a good solution, there was nothing else that I could do. When I tried after assembling and fixing back the tray unit, it worked ok. But some CDs were working in full and some only up to around 8 tracks. When I contacted the customer, he told that it was like that only and asked me to ignore it if it could not be fixed. A replacement of the tray was available in Aliexpress, but I could not place an order as import from them was banned in our country. The long shaft motor was also not available for replacement, as I suspected that the motor was not able to take the loaded eye unit beyond certain limit. By the way, I forgot to mention that I had downloaded the service manual of this player from the following link (You may have to do a free registration and log in to download) and also checked the wave forms of the tray as described in the manual. These were found to be perfect. The link: Cambridge Audio CD6 Compact Disc Player Manual | HiFi Engine.
As modification of the wiring to strip instead of the multi wires, a few of which were shielded, was not practically possible, I had no other go except to accept this as a handicap, especially when the good customer was ready to accept it. If and when the import is allowed, we can think of buying the replacement tray from Aliexpress. I preferred to buy from them, as they send items through speedpost instead of courier, which was very economical. Otherwise the courier charges were prohibitively high. That is one of the reasons I am not able to fetch it from any other sources across the Globe.
Anyhow, mission was accomplished and satisfaction had no reason for not jumping into its collection.



This article was prepared for you by Parasuraman Subramanian from India. He is 72 years old and has more than 30 years' experience in handling antique equipment like Valve Radio, Amps, Reel Tape Recorders and currently studying latest tech-classes conducted by Kerala State Electronics Technicians' Association. He has done graduation in BBA degree, private diploma in Radio Engineering and retired as MD of a USA company. Presently working as Consultant to Hospital and other institutions.
Please give a support by clicking on the social buttons below. Your feedback on the post is welcome. Please leave it in the comments.
P.S-If you enjoyed reading this, click here to subscribe to my blog (free subscription). That way, you'll never miss a post. You can also forward this website link to your friends and colleagues-thanks!
You may check on his previous article on Noisy Pots Replaced In AHUJA Public Address System Model SSB-60M
Likes
(

52

)
Dislikes
(

0

)