Day Light Switch Repair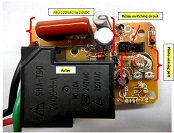 I got a simple device from a customer who told me does he bought several of them and after a while they start to die. These devices are some sort of light detectors with a relay inside, and serves as an automatic light switch when the darkness falls.
These devices are working on main voltage, here in my region it is 220VAC. So please take care if you work with such of voltages, it could really badly harm or even kill you.
The problem is does the device won't any more switch when the darkness fall. I never repaired such of device before. Here is a picture how it looks like:

The device inside is not a complicated think, but I was really surprised when I discovered the power source part. I mean, how they made it. That is really crap would I say. Theoretically that is a solution to transform 220VAC to some sort of 24VDC in this case, but I'm not really happy to have this kind of power unit in my device.
Actually, they made a so called "capacitive power supply". That means, it is a transformer less power supply with a capacitor and a resistor in series with the main live wire. Must not be to feed the live wire to the cap but it is recommended to do so.

The main problem in this circuit is the PSU (Power Supply Unit). I will a bit describe this part of the unit with a circuit diagram.

The C1 is a voltage dropping capacitor which is connected in series with the phase line. The R1 will serve to empty the C1 when you interrupt the main line. The R2 serves more like a fuse resistor.
Why I hate this type of circuit? I hate this because the DC part is not isolated in any way from the main power source. There are very big chance does any point of the circuit in the DC section is under high voltage and this can be very dangerous. Somebody would say I'm wrong, because the C1 is actually galvanic isolating the AC side from the DC side, this is true but who can guaranty does no AC leakages is still present ? I wouldn't mess to tap with my fingers around the DC side. No way!
Wait a moment, recommended is to connect the live/phase wire to the C1 and the neutral wire to the R2. Ok, but is it possible to make a mistake and connect the live to the R2? Of course it is, the device will also work for sure, but you have the main voltage traveling through the R2 and through the bridge rectifier too without the minimal galvanic decoupling from the C1. Your chance is much higher to die in that situation.
Oh! Can you imagine what kind of case/housing does this kind of electronic need? Yea, a really good sealed and non conductive housing would be the best. There are many more problems with this PSU.
Here is a short list of drawback:
– very low current output, maybe 30-50mA
– the AC side is not galvanic insulated from the DC side of the circuit
– the output will be completely unstable if the main side is fluctuating
– very dangerous to use such of device
– if something goes wrong in the device a big chance is exceeded does the whole unit will burn down

I think this is enough explanation in a really nutshell, and if you hesitate even a bit how this is working a better way is to step back and forget to deal with such of device, before it is too late.
Back to the repairing. As I described my methods of part checking in some of my previous writings, here I do the same. First I searched for shortened parts or circuits. And in the first minute I found the problematic area. A 1N4749A Zener diode was killed. I also checked the area where the Zener diode was set for some problems, but didn't found any.

After changing the diode the unit was in a working condition.
PRECAUTION!
WHEN YOU DEAL WITH SUCH OF KIND OF DEVICE, MY HOTTEST ADVICE IS TO YOU IS:
– IF YOU DON'T UNDERSTAND 110% HOW THIS PSU IS WORKING, PLEASE DON'T TRY TO REPAIR!
– ALWAYS USE A 1:1 INSULATION TRANSFORMER WHEN YOU DEAL WITH MAIN VOLTAGE.
The 1:1 insulation transformer can save your life if something goes wrong and you and your device are galvanic insulated from the main voltage source. I hope you enjoy this tutorial and will save lot of repair time.

This article was prepared for you by Christian Robert Adzic from Novi Knezevac-Serbia.
Please give a support by clicking  on the social buttons below. Your feedback on the post is welcome. Please leave it in the comments.
P.S-  If you enjoyed reading this, click here to subscribe to my blog (free subscription). That way, you'll never miss a post. You can also forward this website link to your friends and colleagues-thanks!
Note: You can check his previous post in the below link:
https://jestineyong.com/sonic-mole-chaser-repairing/
Likes
(

77

)
Dislikes
(

1

)