DAYTRON Electric Rice Cooker repaired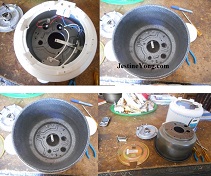 Last week while I was resting, suddenly my wife called me saying that the Electric Rice Cooker was out of order. The brand name was DAYTRON Model: FGS40-S
Below are the photos of the rice cooker:

Note: First of all I want to inform all the readers that I'm not a specialist in this kind of item repair.
The complaint was the cooker only warmed-up (orange LED indicator), but it did not cook (red LED indicator) at all. First thing done was to dismantle the device.


As I'm not a specialist in this kind of appliance, I made some marks with a Permanent Marker, as shown in the photos below.

Let's begin now with the mending process of my Rice Cooker. First thing done was to check on the AC-in and the Main Fuse with the Digital Multimeter (DMM). Till now everything was ok.

The second step was to test the heater (electric resistance) with the DMM, and it was fine too.

The third step was to test an additional resistance of 110v 40w, and it was fine too.

The four and last step was to check the micro-switch of the device.

Till here, I was terrified, why? I was looking for the bi-metallic device which switched on and switched off the Rice Cooker for cooking and/or warm up the rice. But let's continue.
The switch was dismantled completely and a Magnifying Glass had to be used.


As you can see the switch was disarmed into pieces. The contacts were cleaned with Sand Paper

When the Rice Cooker was fully armed, look at the results in the photos below.

A delicious Congris Rice (Moros and Cristianos) was cooked, and readers are invited (LOL). My wife is very happy now.

This article was prepared for you by Humberto Rodriguez, one of our 'Master Authors' from Cuba.
Please give a support by clicking  on the social buttons below. Your feedback on the post is welcome. Please leave it in the comments.
P.S-  If you enjoyed reading this, click here to subscribe to my blog (free subscription). That way, you'll never miss a post. You can also forward this website link to your friends and colleagues-thanks!
Note: You may check his previous repair article in the below link:
https://www.jestineyong.com/lite-on-dvd-drive-repaired/
Likes
(

126

)
Dislikes
(

0

)