DC Power Supply Upgrade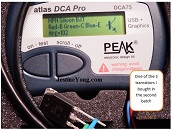 This is my GQ-A305D Variable DC Power Supply that most of you saw my repair video on. It has been working great. I really didn't think about upgrading the power transistor and op-amps. I expected that I would usually be using it at around 2 Amps or less. When I did the repair on the unit, I didn't even look to see if there were better components now that I could use to make the power supply more accurate and dependable. But after reading the comments and suggestions from our friend Paris Azis that commented on my repair article, I decided – why not? It would be much better to have it upgraded for when I do need better accuracy. And being more dependable is always a plus.
Thanks Paris for your comments and suggestions for the upgrade of my Power Supply.

I don't want to spend much more money on this unit. So I'm just going to upgrade the power transistor and op-amps. I'm not going to spend money on a better heatsink. It would be cheaper to just repair or replace the fan when it quits. I've already upgraded the wiring in this unit.
In the above photo of the control board, I have changed the UA741CP op-amp to the TL081CP.

Here on the main board of the power supply I have replaced the UA741CP single op-amp with the TL081CP; and the dual op-amp LM2904D to the TL082CP.

And I changed the last single op-amp UA741CP on the main board to the TL081CP. Now all of the op-amps are replaced. While I was changing the op-amps, I also removed a lot of lead-free solder on many components with my Hakko 808 and re-soldered them with some good lead solder. There is not much non-lead solder left in this unit now.

I decided not to spend money on a new heatsink. But I will keep my eyes open for some aluminum strips to add some mass to this one.

The heatsink already had holes drilled for 2 transistors. So I only had to drill holes for the third transistor. I drilled the holes and chamfered them, and then roughed up the surface with some steel wool. I'm waiting for my electrically conductive thermal grease to get here from allspec.com. The severe winter weather that we in the USA have been having has caused me to wait longer than normal for it.


I'm going to leave the original transistor in the unit, and add the 2 with it that I bought in the first batch because their gain is closer to the original transistor and because I already cut the collector leads, and bent the other leads. The three transistors that I bought in the second batch have gains of 102, 100, and 99. So I'll keep them as a set. Plus I haven't cut them or anything, so I can use them for something else if I want to.

Here is a photo of the 24V fan that is in the unit. It is 80X80X25 mm, which thankfully is a common size. They are not very expensive and I can get one just about anywhere. I'm going to buy a new fan to have in case this one quits. I can just replace it real quick and try to fix this one when I get the time.

I'm going to see how well these 3 transistors work together. If I had bought 3 of the 327 batch, I would have just used them and kept the original transistor in my spare transistor box, but I only bought 2 of them.

My electrically conductive thermal grease finally arrived. I put 3 layers of heat shrink on the base and emitter pins just to make sure they don't short on the heatsink.



The transistors are soldered up and the unit is ready for adjustment, testing, and reassembling.

I have the unit adjusted, and it is working very well.

Now my Power Supply is back in its place on my workbench and ready for work. I'm sure it will be much more dependable now, especially at high amps.

This article was prepared for you by Robert Calk Jr from Texas, USA. He loves learning electronics and device repair.
Please give a support by clicking  on the social buttons below. Your feedback on the post is welcome. Please leave it in the comments.
P.S-  If you enjoyed reading this, click here to subscribe to my blog (free subscription). That way, you'll never miss a post. You can also forward this website link to your friends and colleagues-thanks!
Likes
(

193

)
Dislikes
(

3

)