Dead LED TV restored back to life. Model: Fuji Japan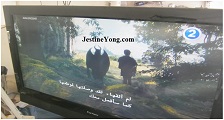 An old LED TV set was brought to my shop for repair by my ex football coach. The customer said the TV went dead right after a power failure in the house. It has no stand by light no any indication of any life left in this device.

Getting to the main power supply was very easy.
I did not have to take the whole frame off to get inside, just few screws off in the center of the frame and I could see the metal frame.

Beneath this metal frame sits the power supply and that was my repair target.

I checked the fuse and it was intact which means it was getting power but for some reason, it was not coming one. I looked for bad plugged capacitors and I found none. When I looked to the back of the board, I found a lot of cold soldering joints and right away, with my soldering iron, started to re solder every single joint on that board including the SMD parts.
Sad to say, after all this work, started getting power up to the secondary side of the power supply. I guess it was a progress but not enough to bring the TV back to life.
I this time, I was suspecting a lot of bad capacitors on that board. The method that I used was heat and freeze. I heated the capacitors in certain areas and try the TV if it comes on or not.  Finally after a while, I came to a certain spot that when heated with a hair dryer, the TV came on.

When the TV came on and a nice display on the screen, I used a cold spray on the same capacitors I froze these parts just to make sure the capacitors are the bad parts and not the other components around it. Sure enough, the moment they got cold, the TV would not start at all. Right away, I replaced all the four ones in that location.
1000uf/16 x2
450uf/10 x2
Right I after I replaced these four capacitors the TV was a live again.

It took me a while to re solder all these cold soldering joints and the replacement of these capacitors but it was worth it. The TV is back to life and the customer was happy. Mission Accomplished.

This article was prepared for you by Waleed Rishmawi, one of our 'Master Authors' and currently working in the Bethlehem area of Palestine repairing electrical and electronic equipment.
Please give a support by clicking on the social buttons below. Your feedback on the post is welcome. Please leave it in the comments. If you have electronic repair articles to share with us, please contact us HERE.
P.S-  If you enjoyed reading this, click here to subscribe to my blog (free subscription). That way, you'll never miss a post. You can also forward this website link to your friends and colleagues-thanks!
Note: You may check out previous post in the below link:
https://jestineyong.com/apple-power-adapter-cable-repaired-model-magsafe-2/
Likes
(

130

)
Dislikes
(

0

)