Dead Short Diode Found In ACER P166HQL LCD Monitor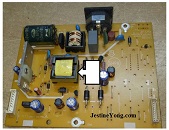 This LCD Monitor was brought to me with the complaint that it was found dead on switch on, and as the customer's son needed the monitor urgently, for his Exam studies, he wanted my immediate attention. I opened the set, by prying the sides using special tools which I had bought for this purpose.

Cleaned the inside, after dismantling the set. Looked for any visible damages and did not find any. Applied power to the SMPS and checked whether the output voltages were coming. It was missing. Disconnected and discharged the Tank Capacitor of the SMPS. Checked the primary of the SMPS using Ring Tester (Jestine Yong is promoting this product and refers it in his world famous SMPS repair book) and found something was short either in the primary or secondary. Since I had an experience of Diode failing in the secondary (Please see my old article here: https://jestineyong.com/servicing-coby-lcd-tv-monitor/) on a similar power supply, I checked and found it to be short.
It was same case like before. One of the two diodes was found short! Why is it so, in two different models of different companies, still baffles me! Anyhow I replaced both the diodes with MUR460 that I had. Checked the primary with Ring Tester and found full glow, indicating that all was well. Did a dry solder touch up on the board.
Connected the board after discharging the Tank Capacitor in the SMPS primary, applied power and found it to be working very well, for the smiling satisfaction of the customer and his son who were sitting beside me. Assembled the set back and gave it to them. All work finished within about 30 to 45 minutes!






Do I have to specify that this job also got stored in my satisfaction bag?

This article was prepared for you by Parasuraman Subramanian from India. He is 69 years old and has more than 30 years' experience in handling antique equipment like Valve Radio, Amps, Reel Tape Recorders and currently studying latest tech-classes conducted by Kerala State Electronics Technicians' Association. He has done graduation in BBA degree, private diploma in Radio Engineering and retired as MD of a USA company. Presently working as Consultant to Hospital and other institutions.
Please give a support by clicking  on the social buttons below. Your feedback on the post is welcome. Please leave it in the comments.
P.S-If you enjoyed reading this, click here to subscribe to my blog (free subscription). That way, you'll never miss a post. You can also forward this website link to your friends and colleagues-thanks!
You may check on his previous repair article below:
https://jestineyong.com/membrane-keypad-replaced-with-micro-switches-in-onida-microwave-oven/
Likes
(

63

)
Dislikes
(

1

)