Dead SONY DVD Player Brought Back To Life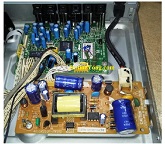 This Sony DVD Player Model DVP-SR650P was brought to me along with another Onix, by a new customer, as a reference from another satisfied customer. Both Players were reported to be dead. I opened this Sony first and cleaned up the inside thoroughly and looked for any burst IC or other parts lying around, before using my blower, having learnt a lesson recently. I did not find any visible damages either on the Power supply or mother board. This was brought without its remote control as customer had lost or misplaced it.
The Player was dead when powered it up. Checked the voltages and found these to be below normal. Like 12V was showing around 10, 5V was showing around 3.5 to 4. So, disconnected and removed the SMPS board. Found a lot of dry solder. ESR of the caps was either at the brim or out. So, retouched the board and replaced all the electrolytic capacitors on the Power Supply Board. Removed the front panel and checked the press to on switches. Found two of them making no contacts. So, replaced them. Cleaned the Lens using IPA. Cleaned and lubricated all connectors. Checked ESR of caps on mother board and found these to be normal.

Then externally connected the board and applied power. The Player came on when the on/off switch was pressed and the cd mechanism functioned well on observation; i.e. red laser was present (Looking from its side from a safe distance), the eye unit moved forward, backward, upward and downward to focus the beam, looking for the starting point of CD. As I did not load any CD, it showed '——' and stopped. Checked the voltages and found these to be correct as written on the board. So, pressed the eject/load button (open/close) a few times so as to spread the lubrication done evenly. Then loaded a DVD and found it to be working very well!


So, connected it to a work completed BPL FHR CRT TV, as both could be tested for proper functioning together and allowed the player to work for many hours by playing a few disks.
It worked very well. So, closed the Player with its top cover and packed the defective components in a cover for giving to customer.

Mission accomplished and satisfaction got collected without fail!

This article was prepared for you by Parasuraman Subramanian from India. He is 72 years old and has more than 30 years' experience in handling antique equipment like Valve Radio, Amps, Reel Tape Recorders and currently studying latest tech-classes conducted by Kerala State Electronics Technicians' Association. He has done graduation in BBA degree, private diploma in Radio Engineering and retired as MD of a USA company. Presently working as Consultant to Hospital and other institutions.
Please give a support by clicking on the social buttons below. Your feedback on the post is welcome. Please leave it in the comments.
P.S-If you enjoyed reading this, click here to subscribe to my blog (free subscription). That way, you'll never miss a post. You can also forward this website link to your friends and colleagues-thanks!
You may check on his previous article on How To Build Your Own Am Radio
Likes
(

63

)
Dislikes
(

1

)