Defective IC Caused No AM/FM Signal In Philips Radio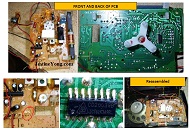 MAKE AND MODEL: PHILIPS DL225/60 AM-FM RADIO
COMPLAINT REPORTED: Dead

HISTORY: Set belonged to my school classmate and was not used for many months. When he put the three batteries in and switched on, it was found dead. He did try cleaning up the battery contacts but in vain. Because of Covid-19 pandemic, there are restrictions in the town for moving around. But he managed to bring it to me as the only solace now open for all residents is either watching the TV or listening to the Radio. As I keep the gates closed and locked, he informed me before coming in. I let him come in and keep it in my car porch, keeping ourselves enough distance as per guidelines given. Both of us were wearing masks. After he left, I wore a pair of protective gloves and sprayed sanitizer on the Radio on all the surfaces and inside the battery compartment too and allowed it to remain in its place for around three hours before I picked up and left it in a stand (still wearing the gloves) for a further period of three days, before I ventured to take it up.
TROUBLESHOOTING AND RECTIFICATION DONE: I was happy to see 'BPL' mark in the PCB, as I worked in BPL for almost twenty years! This PCB was made by BPL as per a contract it had with Philips! I noticed that the batteries were not making proper contact as the voltage measured was not showing 4.5V for a set of three batteries. So, removed it and cleaned the contacts using IPA and emery paper. Also cleaned the battery terminals as it had formed rust. The batteries were in good condition, when I checked with a battery tester. After ensuring that the power supply was restored, switched on the set and the Radio did not pick up any stations in any band. The IC CD2003GB was getting the VCC at its 6th pin. Got audio sound when I touched the hot pin of volume control, which indicated that the audio section was ok. As no sound was heard from the input of the IC in any band, I checked the band switch, as it is a likely cause for such defects, especially when stored unused for a prolonged time. I even applied switch cleaning oil. But the switch showed making proper contacts.
So the IC was suspected. I replaced the IC and the set started working very well. Failure of this IC is quite common in Philips Radios. Replaced the power indicator LED as it was open. Retouched all the solder points after replacing all the electrolytic capacitors as a routine maintenance. Provided an audio out as requested by my friend, tapping it out from the volume control input, providing a jack for it in the rear cover. I selected a mono earphone socket for it, as he was using it with his very old HMV Vacuum Tube Radiogram. Radio worked very well with good pick up, adding satisfaction to its collection bag!
HERE ARE A FEW PICTURES:




s

This article was prepared for you by Parasuraman Subramanian from India. He is 70 years old and has more than 30 years' experience in handling antique equipment like Valve Radio, Amps, Reel Tape Recorders and currently studying latest tech-classes conducted by Kerala State Electronics Technicians' Association. He has done graduation in BBA degree, private diploma in Radio Engineering and retired as MD of a USA company. Presently working as Consultant to Hospital and other institutions.
Please give a support by clicking on the social buttons below. Your feedback on the post is welcome. Please leave it in the comments.
P.S-If you enjoyed reading this, click here to subscribe to my blog (free subscription). That way, you'll never miss a post. You can also forward this website link to your friends and colleagues-thanks!
You may check on his previous repair article below:
https://jestineyong.com/corroded-wire-caused-no-display-in-samsung-monitor/
Likes
(

46

)
Dislikes
(

0

)