Dell Laptop Misbehavior on Booting Repaired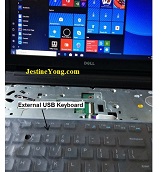 One of my old customers referred his friend to me for his laptop problem he has stating the problem as laptop is misbehaving intermittent due to virus infection. As per my initial diagnosis I found that on booting dell laptop it stuck on login screen neither keyboard is responding nor touchpad.
After so many attempts I am able to enter in BIOS setting (by pressing F12) option on booting screen found everything is okay. Here I noticed that I am facing problem in initial Hardware initializing process it indicates this is not virus problem it is pure some hardware issue. After so many attempts I entered in the main screen. I have attached external USB mouse because touchpad is not working. I have clicked on Start Icon and here I found the culprit for misbehaving.

It showing Continuous typing 'P' letter in search bar this may because of key itself stuck in press condition due to dust or some physical damage.
Therefore I removed the key cap for inspection but nothing seems damaged or dusty after cleaning with IPA I have refitted the key cap and tested again with no effect even I am unable to open any other application for testing…
So I have decided to disconnect the keyboard from the laptop and see.
I have removed the keyboard by releasing locks this keyboard does not having any screw you have to just press the lock and lift the keyboard gently because keyboard and other cabled attached beneath the keyboard.


After removing internal keyboard I have plugged external USB Keyboard for testing.

I have powered on the laptop and now laptop booted and directly showing desktop screen & search bar is also blank I have opened the word application for testing letter impact I found it works flawlessly without automatically repeated letters and touch pad is also working.

Now it is concluded internal keyboard itself is faulty and needs to be replaced with new. So I have discussed with the customer that there is no Virus Problem and this problem is of keyboard which always keep generating miss commands to processor hence it misbehaving. Customer is agreeing to get replace the keyboard.
After replacing new keyboard it works fine.

This article was prepared for you by Yogesh Panchal who works as a Computer Hardware Engineer in Mumbai India.
P.S- Do you know of any your friends who would benefit from this content that you are reading now? If so, forward this website to your friends or you can invite your friends to subscribe to my newsletter for free in this Link.
Note: You can check his previous repair articles in the link below:
https://jestineyong.com/rechargeable-battery-problem-in-mosquito-killer-racket/
Likes
(

69

)
Dislikes
(

0

)