Dell 23.5" ST2320LF Widescreen LED Monitor With No Power Repaired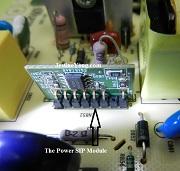 In fact this is my own LED Monitor. While using the Monitor at home, it just suddenly went dead (power light does not lit). I have a spare LCD Monitor at home and after powering it up I could see the display. This means the LED Monitor indeed have problem.I took it back to my office and started the repair work.

I checked on the fuse first and it was opened circuit. On board testing the bridge rectifier indicated a short circuit. I soldered the bridge rectifier and retested it again and indeed it was shorted. I proceeded to check on the power FET and the big filter capacitor and both components were good.
Tip-Usually if the power FET is good, chances is very high the power IC is in good condition also.

Since I do not have the original part number (GBU4-06) for the bridge rectifier, I had to use a replacement one  and found it from a junk LCD Monitor power board. The part number is BL4-06 (600volt 4amp).

The problem now was that the replacement bridge rectifier 4 leads (legs) were much bigger than the original one thus it can't be fitted into the original holes. I had to use a power drill with the right drill bit to make the holes bigger as seen from the photo below:

I did not power up the set and instead use a 100 watt bulb to connect it across the fuse two points. If there is still short circuit the bulb will light up and won't go dim. If the power section has no short circuit the bulb will go dim and at the same time you can expect good output voltages from the power supply. Yes, indeed there were output voltages and after putting back the replacement fuse and powered On the set, it came back to life. The below photo was taken from my home.


I told my children that their daddy (me) is a DIY person and managed to repair the LED Monitor and save some $$$$.

This article is brought to you by Jestine Yong
Please give a support by clicking on the social buttons below. Your feedback on the post is welcome. Please leave it in the comments.
P.S- Do you know of any your friends who would benefit from this content that you are reading now? If so, forward this website to your friends or you can invite your friends to subscribe to my newsletter for free in this Link.
Likes
(

244

)
Dislikes
(

0

)