DENON AVR 2312- Power Supply Problem Rectified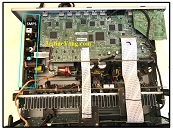 Good Morning,
I got this Denon AVR which could not power up. I applied my troubleshooting techniques learnt from Mr. Jestine's class in KL.
Since I have previously rectified the power supply problem in another model Denon 2311, I suspected that the problem in this Denon 2312 could be something similar, like faulty IC TOP258MG and some diodes.

I opened up the unit and found that the SMPS board is mounted on the left side. Without removing the board, I checked the two fuses ((T1.6A 250V) on the board and both were found to be good.

The board is not a plug and play type. Desoldering of 5V connector terminals to be done for the removal of the board.

After desoldering and removing the board, conducted visual checks on the components first and found that the board was clean without any visible burnt marks, bulging caps etc. The IC TOP258MG was intact without any burnt marks.

5. Connected the power supply to the SMPS board alone. Checked the voltage at main filter cap using DMM and found that voltage was abnormal.
6. To continue the troubleshooting further, checked the diodes and other key components and found that 2-diodes (IN 4007) and one resistor (1M ohms) were faulty. Rest of the components were appeared to be in order.

Replaced 6 diodes including the 2 faulty ones and also, 4 resistors in a row including the faulty one. Connected the power supply to the SMPS board alone. Checked the voltage at main filter cap using DMM and found that voltage was in normal range. Checked the voltage at the output terminals and found 5.2V.

Connected the SMPS board back into the AVR. Switched ON the power. Wow! Great! The power was back.

9. Next step, checked the video and audio circuitries by connecting it to TV and speakers and found all were in good order.

Denon AVR2312 is working flawlessly now. I am so happy that I can continue applying my learnings on SMPS repairs from Mr. Jestine's class.
Thanks much Mr Jestine. You are The Great Guru.

This article was prepared and shared by Raj, an electronics hobbyist from Singapore. He has done Masters in Industrial Safety Engineering and Degree in Mechanical Engineering. Currently, he is working as a Safety Professional in Singapore. Although he is with mechanical background, his hobby is on consumer electronics stuffs especially on home theatre systems, amplifiers and speakers.
P.S- If you enjoyed reading the above article, click here to subscribe to my blog (free subscription). That way, you'll never miss a post. You can also forward this website link to your friends and colleagues-thanks!
Note: You may check out his previous post in the below links:
https://jestineyong.com/denon-avr-2311-power-supply-problem-rectified/
Likes
(

86

)
Dislikes
(

0

)