Description and Debugging of the L9135PD Injector Driver IC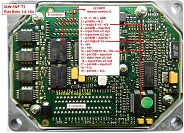 I got a problematic ECU ( Electronic Control Module ) in my service now days, the request from the customer company was does the ECU is faulty, actually the ECU don't command the injector no. 3 on the vehicle. I decide to take the job and check what could be wrong. After 30 min I came out with a shorted IC pin no. 4 which is actually the commanding pin for the injector. I tried to find a schematic for the IC on the Net, but with no luck. I had no other option than to debug the circuit and try to figure out how the IC is working.
This is a very basic circuit and also a basic description, but I think if I found something like this at the moment on the Net. when I searched for, I would be very happy!
So, here is the work from me and I will share this with other technicians who face problem with this IC or similarly one. This is a solenoid driver IC, I assume this is in lot of automotive applications and maybe in other too. The major think is there are four input pins and four output pins which are base on some sort of FET or some power transistors.
But there are some sort of communication pin too, which tells the power IC ( right down on the ECU picture ) if there is some short circuit to shut down the power to the IC and/or reset the IC.
The L9135PD is powered from 5V voltage, but I assume it could be powered from 9 maybe 12 or a bit higher voltage too.



This article was prepared for you by Christian Robert Adzic from Novi Knezevac-Serbia.
Please give a support by clicking  on the social buttons below. Your feedback on the post is welcome. Please leave it in the comments.
P.S-  If you enjoyed reading this, click here to subscribe to my blog (free subscription). That way, you'll never miss a post. You can also forward this website link to your friends and colleagues-thanks!
Note: You can check his previous post in the below link:
https://jestineyong.com/wiring-broom-a-useful-short-circuit-tool/
Likes
(

124

)
Dislikes
(

0

)