Desktop Computer Is Turning On But Monitor Screen Showing Error "Check Signal cable"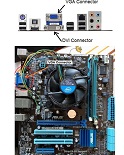 On receiving call from the customer I have visited his site for troubleshooting above stated problem.
I turned ON the PC and monitor I can hear single Booting BEEP and green LED (Power Indicator) light is ON, Red LED (HDD) Blinking. But monitor power light turned ON Blue and instantly turn into orange and error on screen "Check Signal cable".
That means Monitor not receiving signals from the CPU. Due to this monitor logic board put the screen on standby mode.
This process confirms that Processor unit is ok there is problem either with VGA Display Cable or Monitor Itself.

Further diagnosis I held the display cable for removing and just pressed it back suddenly I got the desktop screen picture on monitor I thought it was just loose connection. customer has put the monitor on folding table hence for put it back under the box I hold the CPU and on little Jerk same error appear on the monitor screen. I thought it got loose again so I just re fitted the cable and display just appeared and again goes off.
This time I hold the connector to motherboard VGA Port in the PC and just shacked the cable only but no effect on the screen that means cable seems ok no break or damaged the cable. Now I did little movement by holding cable connector and problem is repeating with movement on motherboard VGA port.
Now I turned off the pc. Further inspection I found VGA port is going back and forth while pressing that means problem is on the Motherboard. For further testing I removed the motherboard from the PC Case and inspected the motherboard VGA Connector it seems ok no Physical damage found. Now checked from solder side there is No sign of dry solder. Again pressed the connector still it has movement may be because of it has Long Legs and that gives spring like feeling.

But I am sure display comes after movement of this connector. By my past experience on this type of boards I concluded there is dry solder somewhere around this connector. This you cannot find out even under the microscope. because this type of Motherboards are made on Multi layer PCB so on up side and down side it will not show you any sign of dry solder but may have dry solder between two layer joint.

Before retouching the solders applied flux. Because over heating on board may damage thin traces on the PCB under the connector.


After Cleaning with IPA I have reassembled PC for the testing & this time I have pressed power switch and monitor screen showing booting process. Now all the previous process for testing I have repeated to confirm by shaking cable and VGA connector itself but this time no signal loss.
As I mentioned above customer having folding table they move the monitor every day form in side box to outside table and may be connector is damaged because of cable get pulled by the force and damaged the Motherboard connector.

This article was prepared for you by Yogesh Panchal who works as a Computer Hardware Engineer in Mumbai India.
P.S- Do you know of any your friends who would benefit from this content that you are reading now? If so, forward this website to your friends or you can invite your friends to subscribe to my newsletter for free in this Link.
Note: You can check his previous repair articles in the link below:
https://jestineyong.com/12v-smps-adapter-no-voltage-output-repaired/
Likes
(

61

)
Dislikes
(

0

)