Digital Audio Player Repaired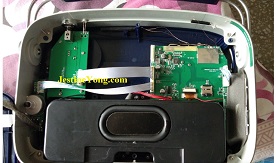 Received SAREGAMA CARVAN portable digital music player for repair, stating not working. This unit is used by customer's old age parents.

On testing I found the unit is not powering on by pressing On/Off switch on the top.
I thought may be battery is drained totally hence when I went to connect the cable for charging internal battery, I found missing micro USB charger connector.

So I disassemble the player for repairing…


Checked battery voltage it is showing only 1v hence it is not power up.
On removing the back side PCB found Ripped USB connector.

Traces found intact even though connector is damaged because of extreme pressure for connecting the charger cable.

For replacing connector space is very tight because of plastic part of the connector, it will easily get damaged while using Hot air …….so I decided to put the external USB Connector.


Made hole on back panel of the cover to fit the connector.


After reassembling, I powered the unit:


Now unit is back to the life.

This article was prepared for you by Yogesh Panchal who works as a Computer Hardware Engineer in Mumbai India.
P.S- Do you know of any your friends who would benefit from this content that you are reading now? If so, forward this website to your friends or you can invite your friends to subscribe to my newsletter for free in this Link.
Note: You can check his previous repair articles on Repaired Desktop Computer ATX SMPS
Likes
(

49

)
Dislikes
(

0

)