Distorted Sound In An Active Speaker Repaired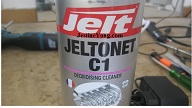 A man next door brought in an active speaker for repair. He said that he used to hear a voice of a lady when he powers on the machine but now he does not (He meant the blue tooth pairing sound (LOL).

When I powered it on, the screen came on but with a display of the word (LINE) and that means the voice of the lady (blue tooth pairing) will not be heard.
When I switched to the pairing mode the sound came on but distorted.

I took off the screws that holding the back and exposed the inside of the speaker and right away I spotted some cold soldering joints on the left side of the speaker.

The main board was intact but has a lot of dust on it so I dusted it off and looked for bad soldering joints but there was none so I move on to the
board that is holding all the potentiometers and there I found a lot of bad soldering joints, take a look

It was time to re solder all the bad soldering joints on these two boards and hope for the best.

Once the re soldering job was done and cleaned up, I sprayed all the potentiometers with the Deoxidizing cleaner and put the speaker back for testing.

The sound came up nice and sweet and when the customer came for pick up, I informed him how to use the blue tooth setting so he can hear the lady talking (LOL)
Mission Accomplished.

This article was prepared for you by Waleed Rishmawi, one of our 'Master Authors' and currently working in the Bethlehem area of Palestine repairing electrical and electronic equipment.
P.S- Do you know of any your friends who would benefit from this content that you are reading now? If so, forward this website to your friends or you can invite your friends to subscribe to my newsletter for free in this Link.
Note: You can check his previous repair articles in the link below:
https://jestineyong.com/a-remote-controlled-helicopter-with-a-damaged-charging-port-repaired/
Likes
(

72

)
Dislikes
(

0

)