Dreambox 800 PVR Satellite Receiver Repair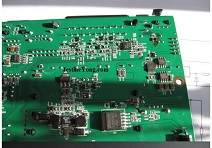 This repair is about a dead Dreambox 800 HD PVR that one day refused to work. Plugging in and or turning the adapter Plug made no difference. And after I had tested the 3A 12A Power adapter it worked splendidly. So the problem was within the DM800 HD PVR itself.

And after I had opened it and had examined the pcb and the components they all looked fine and there were no bulged e-caps either. Because it was working again afterwards I reassembled the DM800 HD PVR, and it kept working for the next couple of days. Until it refused to Boot again, so I disassembled the PVR a second time. And this time I removed the entire board to examine it more closely.
Previous photo showed the disassembled parts, and next photo shows the component side of the pcb that looked fine but still didn't work. Followed by a complete view of the solder side of the board. And I reconnected the Power adapter to see if something got hot, like a capacitor that had changed into a resistor. But nothing got hot. And nothing smelled burnt, and no tracks were bad either.
I also started pressing carefully on some of the board's parts and spots, and suddenly I noticed that the DM800 HD PVR started running. So it just had to be some kind of bad connection on the board. I looked more closely at the power adapter input. It had 2 grey looking resistors and one of them looked like it could be cracked, I removed the Power and started measuring. The left grey coil or fuse was about 0 Ohm and intact and was the +12V input of our Power Jack.

And the right one with the possible cracked 'core' measured fine being also 0 Ohm and was the GND Input of the power jack.
To find out if this fuse or coil indeed was broken I used my Solder iron to see what happened after I had removed that component. And right after it was desoldered it looked broken but also couldn't be resoldered on one of its sides because it was blackened afterwards. On that component's side the shiny solder had gone. So it must have been causing the power problems!
Next photo shows the fuse/coil that I replaced by another one saved from old boards. (red circle).

(the shadow was made by my living room blinds and the bright sun shining on them). Next photo shows another view of the area where the bad fuse/coil was located.
It looks like its becoming my trademark, but again I have to conclude that the repair 'luckily' did cost close to nothing and was caused by only one small bad components with erratic behavior.
So if you ever have a problem like the one described, check the fuse/coils on the voltage Input lines. And look for possible signs of cracks on those components.
And the last photos show the repaired working Dreambox 800 HD PVR that will be used for tv-recording again on its internal 2.5 inch hdd. So don't throw away your dead Dreambox before you've tested every part that conducts the input voltage!





Albert van Bemmelen, Weert, The Netherlands.
Please give a support by clicking on the social buttons below. Your feedback on the post is welcome. Please leave it in the comments.
P.S- If you enjoyed reading this, click here to subscribe to my blog (free subscription). That way, you'll never miss a post. You can also forward this website link to your friends and colleagues-thanks!
Note: You can read his previous repair article in the below link:
https://jestineyong.com/exachron-dcf77-time-pulse-receiver-repair/
Likes
(

89

)
Dislikes
(

0

)