DVD Player Turned LED TV Panel To White- Part 2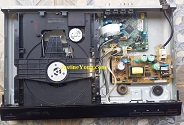 This's continuation of my experience as per article 973 of 29/7/22. The picture below (SMPS) is the cause of the damage.

As at the time I use it as external power to test LG dvd player, I had forgotten this same psb had previously damaged dvd from which it was extracted last year. So after the damage to the two led tv's, I decided to repair the original psb of the LG dvd, below picture:

The repaired lg dvd also below:

I take this opportunity to thank all my techies friends who contributed their suggestions to me in the previous article. I did follow all suggestions and these has help me successfully.
The sony dvd/tv/radio player panel was just transferred to another brand device(GIEC) after a techie friend informed me the microprocessor of the sony is damaged. Picture below:


Now let see how LG 32″ LED TV was repaired. Let me first note that early this year I replaced the panel on this tv when it has a broken panel issue, and I use a panel from another LG model for replacement and this necessitated all those modifications and black tape you see. Now lets go on.
I check all voltages points on main board, all good, AV input to ground 75 ohms, all other components o.k. Then I move on to T-con board, check voltage input 12V o.k, vgh, vdd, vcom etc are all o.k except vgl which was 0.38 instead of -5V. Then I did finger touch on components, to my surprise, IC TPS65175 and IC 3NP are burning to touch, so I suspect problem must be between T-con and panel.

I then dislodge connector from T-con to panel side board and switch on and touch the two IC, no more hot, so this narrow problem to panel area. Then I check on panel side board, see what I observe picture below:


The panel cof area has slit and turn black as result of burnt I guess! So in other to know what went wrong, I connected everything back and switch on, guess what, the slit opening turned glow. If you observe the picture well, you will see some tiny thread like tracks inside the transparent film, so it was three threads out of these that had turned black and bridge together as a result of burnt and cause the panel to white with vertical lines.
SOLUTION: So as I notice the three burnt tracks are touching each other as result of burnt, I used razor blade to cut the three burnt tracks away completely and use thin transparent tape to cover the area. Then connected everything together again and switch on, guess what? TV boot and LG logo show up. I then connected external antenna to antenna input, see the result below:

This is the finished repaired work.

This article was prepared for you by Imoudu Onwumah from Nigeria. He is 62 years old and has just 3 years experience in electronics repairs. I started career in hotel industry as a chef, but then I was doing repairs only in electrical repairs as a hobbyist. In 2018, I decided to learn about electronics which through Jestine's electronics e-books and holding my hand, am an electronics techie today.
Please give a support by clicking on the social buttons below. Your feedback on the post is welcome. Please leave it in the comments.
P.S- If you enjoyed reading this, click here to subscribe to my blog (free subscription). That way, you'll never miss a post. You can also forward this website link to your friends and colleagues-thanks!
Note: You can read his previous article on DVD Player Turned LED TV Panel To White
Likes
(

45

)
Dislikes
(

0

)