DVD Player Turned LED TV Panel To White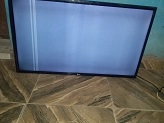 This LG dvd player was send to me with the complaint of being dead. I open it and observe the resistor fuse was burnt, power IC cracked and two tank capacitors opened.

The voltages of this power board are +12, +5, G. So I decided to check if the main board and mechanism side are functioning before I repair the power board. So I use another power board, tap +5, G,and +13.6V (suppose to be +12 though)and connected to main board, then power dvd and it came up.
So I connected the dvd player to my 32″led tv and powered the appliances. Guess what happened, tv came up and the screen immediately turned white with vertical lines, picture below:

I was surprised and confused, I don't know what went wrong. Well, I thought tv screen got damaged on its own, so without being suspicious of dvd, I brought out my operational Sony portable 12.5″ CD,DVD,TV, FM RADIO player. This player has AV input and output, so I connected the dvd on repair to the AV input of Sony player and powered the two players.
The audio and video from repair dvd to Sony screen was good and clear for about 4mins, then suddenly the unexpected happened again: the screen of Sony player changed to white with vertical lines too. ( sorry I forgot to take picture of this). It was then it done on me it was the LG dvd player that damaged the two tv's screens.
Now I am in a state of confusion, what went wrong? I can't say. Perhaps if you have experienced such in the past and know what can cause this costly damage let us know please. What is your take?

This article was prepared for you by Imoudu Onwumah from Nigeria. He is 62 years old and has just 3 years experience in electronics repairs. I started career in hotel industry as a chef, but then I was doing repairs only in electrical repairs as a hobbyist. In 2018, I decided to learn about electronics which through Jestine's electronics e-books and holding my hand, am an electronics techie today.
Please give a support by clicking on the social buttons below. Your feedback on the post is welcome. Please leave it in the comments.
P.S- If you enjoyed reading this, click here to subscribe to my blog (free subscription). That way, you'll never miss a post. You can also forward this website link to your friends and colleagues-thanks!
Note: You can read his previous article on Standby In LCD TV Repaired
Likes
(

50

)
Dislikes
(

1

)