Easy Plasma Tv Repair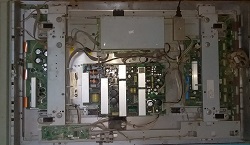 This Philip Plasma tv was brought to my home for repair from my church. The church use it to receive Sunday service from h/qr church through satellite service. It shut down to standby mode when the power generator suddenly stopped working after petroleum finished. After power was restored, tv got stock in standby and it wouldn't power on, picture below.

If you zoom the second picture, you see standby light on.

So I opened up the case cover, and did virtual observation.
I couldn't see any burnt components. Checked power board,Ok. See the boards part of tv below.

Not seeing any suspected components, I consulted my old (age) techie friend who is getting retire from repairs for advice. He told me it's faulty main board causing the problem. So he sourced for the board (fairly used) and brought it to me. Below see we both compare the two boards together to ensure they are both same.


After fixing the good board, the tv came alive again.
This t.v is produced for winter countries but it finds its way to Africa with hot climate, so tv usually get hot when in use, as a result of this i decided to mount two, 12v fans into it as cooling system.

However what baffled me about the cause of the problem is since it's power generator sudden break down, I expected tv power board to be affected, but in this case power board is intact.
Well, this is the picture of finished repaired work below with children dancing to fine tune.


This article was prepared for you by Imoudu Onwumah from Nigeria. He is 62 years old and has just 3 years experience in electronics repairs. I started career in hotel industry as a chef, but then I was doing repairs only in electrical repairs as a hobbyist. In 2018, I decided to learn about electronics which through Jestine's electronics e-books and holding my hand, am an electronics techie today.
Please give a support by clicking on the social buttons below. Your feedback on the post is welcome. Please leave it in the comments.
P.S- If you enjoyed reading this, click here to subscribe to my blog (free subscription). That way, you'll never miss a post. You can also forward this website link to your friends and colleagues-thanks!
Note: You can read his previous article on Battery Powered Table Lamp Modified
Likes
(

54

)
Dislikes
(

1

)