Easy Ways To Troubleshoot and Repair Power Supplies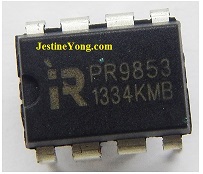 Hi!
The focus in this article is on a HLT48-12-4000 power supply. This power supply is a PSU from a CCTV NVR system from some nearby company. This type of unit is very common on CCTV NVR systems. Repairing this type of PSU's is not a big deal, but maybe my debugging technique will help the reader in more efficient way to make the diagnostics…
The unit was defect, won't start up when it was plugged in to the wall AC outlet.

I checked carefully the PCB for some burnt parts and tracks but don't found any.
Here is the PCB:


I have my method how to debug such of electronics failure what is very quick for me:
– checking for burnt parts and traces
– checking for short circuits on ic's, transistors and then other parts
– checking for abnormal readings/values on cap's, diodes, resistors, I/O pins etc.
Most of case one of the first two checking method will figure out or point me in a direction where actually the problem lie. In this situation, the problem was identified on the PWM controller.

The PWM controller is the PR9853 low cost PWM controller which is used in many PSU applications this and similar types and battery chargers etc. When I checked for shortening of the power supply pins ( pin2 and pin8) of the ic I got a reading around 30 Ohm, that was very strange to me and I decide to take out the IC.
After removing the ic I also checked for short between pin2 and pin8. The result was the same 30 Ohm and clearly a toasted PWM controller. Here is the PR9853 PWM controller:

Info from the datasheet of the PR9853:

I also checked for bad components like the bridge rectifier, the diode which is on the schematic and the power FET transistor also. Everything was in perfect condition. So I decide to order just the PWM controller from the internet.
After two weeks it arrived and I changed the ic. Through an isolation transformer and a bulb in series I powered on the PSU and BINGO! The PSU was working! For testing I connected two car bulbs 12v/21w for several hours. The PSU was going hot but didn't failed and was in a good condition.
Job done!
I hope you enjoy this tutorial and will save lot of repair time.

This article was prepared for you by Christian Robert Adzic from Novi Knezevac-Serbia.
Please give a support by clicking  on the social buttons below. Your feedback on the post is welcome. Please leave it in the comments.
P.S-  If you enjoyed reading this, click here to subscribe to my blog (free subscription). That way, you'll never miss a post. You can also forward this website link to your friends and colleagues-thanks!
Note: You can check his previous post in the below link:
https://jestineyong.com/peugeot-206-incorrect-gauges-repair/
Likes
(

116

)
Dislikes
(

0

)