Electric Air Pump Repaired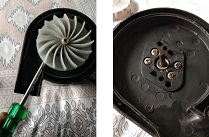 On arrival of one desktop Computer for repair to my place I found the computer is full of dust. I take out my Electric Air blower pump which I use for blow the dust. but it was not working so here my priority is to make the tool in working condition.

After primary physical visual inspection, I checked power plug for some resistance but it didn't show any reading on the Multimeter it indicates some open circuit hence I open the unit for inspecting it from inside.
So opened top cover using flat screw driver.

Then using screwdriver, I flipped up the fan blade. Found screw underneath.

Took apart the unit for further inspection.

After opening the unit on visual inspection nothing seems doubtful. Checked On/Off switch found OK.
Then checked continuity of power cable not getting any continuity on both the line & neutral cable. From the two pin plug on power cord to the switch.

It indicates both wires are open circuit. so removed the cable on removal I found internal cores of cable is brittle and it easily getting brake on little pulling. wire is totally degraded from inside. So replaced the wire.

Connected the fan blade on motor shaft & powered On the motor & motor starts normally.

Here I made one mistake I fitted Fan Blade wrong way which I was not realize because air flow seems ok & packed the unit & finished my job of Computer Cleaning……. I realized the mistake while I was preparing this article.
But I made it right as per Company Fitting ……

This article was prepared for you by Yogesh Panchal who works as a Computer Hardware Engineer in Mumbai India.
P.S- Do you know of any your friends who would benefit from this content that you are reading now? If so, forward this website to your friends or you can invite your friends to subscribe to my newsletter for free in this Link.
Note: You can check his previous repair articles on Computer Power Ok But No Display No POST
Likes
(

53

)
Dislikes
(

0

)