Electric Iron Repaired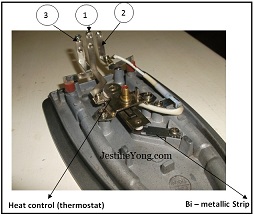 I was told that this electric iron quietly stopped functioning, that is, it was not getting hot anymore when connected to the power. I opened the outer cover and see the circuit arrangement. See photo below.


The Bi – metallic strip is made of two metals of different temperature characteristics: one expand with heat more than the other. The principle of operation of a Bi – metallic strip is that as the iron heats up one of the two metals will expand more than the other. This makes the metallic to bend up (in this case) and break the electrical contact, thus breaking the current flow to the heating element.
There was no any visible symptom of failure of any part. I used my digital multimeter set on Ohmic range. I tested the heating element, it tested well.  I followed the circuit from the entry point of a power cable to the heating element.
Current ought to pass from pole 1, through thermostat, a component in white coloured sleeves to pole 2. From pole 2 it passes through the element back to pole 3.  To my surprise there was no continuity between thermostat and pole 2. I took out that part in white sleeves and measured its continuity separately. It was giving me infinity. This means it was open circuited.

Honestly, I didn't have any idea of what this component is. The marking on its body is Tt 240°C D242 ZSXJ. It is pointed on one end and has a coloured band near the other end. It looks like a diode, I don't think it is. When I searched on internet I found that it is a Thermal Cut-Offs (Organic Thermal Element Type). These devices are used to prevent fires caused by abnormal heat generation from circuits and other heat producing electrical products. (http://www.digikey.com/catalog/en/partgroup/sdf-series/24120)
I bought a new component marked Tt 240 °C 250V AC 10A. The new one measures 4 Ohms in both directions. The device finds its application, among others, in Electric home appliances and heating devices.
I replaced the faulty component with a new one. Note that I put the new device into the original sleeves. I tested the continuity of the complete circuit: from pole 1 through heat control devices to pole 2 via the Device, to heat element and back to pole 3, the result was satisfactory. I connected the power cable; I made sure that it was safe to power it up. It worked so well! At different temperature ranges the heat was controlled by the thermostat by the operation of the Bi – metallic strip as expected. Glory to God!


Luciano Francisco Thomas Khware (Malawian) studied Electrical and Electronics at Comboni Technical College and at Polytechnic (University of Malawi). Currently, he is a student at Tangaza University in Nairobi Kenya.
Please give a support by clicking  on the social buttons below. Your feedback on the post is welcome. Please leave it in the comments. By the way if you have any good repair article that you want me to publish in this blog please do contact me HERE.
Likes
(

145

)
Dislikes
(

4

)