Electrolux Vacuum Cleaner Battery Replacement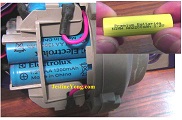 'Stick' vacuum cleaners are used for smaller jobs because they are light, easily maneuverable and don't need a long power cord attached to operate. One of the major problems with these 'stick' vacuums is the fact that the manufacturer installs batteries that will last to just outside the warranty period.
Ours at home was suffering from that fault. After being a useful household appliance for a few years, after charging, it would last for a maximum of 5 minutes before cutting out.
My wife suggested that I might be interested in repairing it (or at least I think that's what she said – or suggested that she might go out pricing new ones…)

After testing the charger in a loaded state, it provided a healthy charge of 15.53 Volts for a 12 Volt system. But even after an overnight charge, the batteries refused to charge.
It was time to disassemble the vacuum and see what the fault could be. The battery pack is a series pack of 10 batteries with 1.2 Volts per battery – 12 Volts combined. I tested each battery individually and found some of them were as low as 0.5 Volt and others had no voltage at all.
I ordered a 10 pack of batteries from overseas, but because I wanted to add 'More Power' to the cleaner, I bought 2200mAh batteries instead of the original 1300mAh ones.
While this might seem very basic, most of the repairs we do are mundane and simple, but they need to be done nonetheless (happy wife, happy life – you know the drill…)

One of the main problems I had was removing the original batteries as these were spot welded and the tabs needed to be reused. I started out using a screwdriver and carefully removing them, but found a much more successful method by using pointy nose pliers to pop the welds off.

Once I had all the straps off the batteries, I found that holding the batteries together with insulation tape made it easier to hold them and stop them from rolling.

The next process took a little practice, I must admit. I've been soldering successfully for years and I must say, these batteries tested my skills. Not enough heat, too much heat and then the straps would move – all designed to make my day a little more difficult. However, with practice, the end result was successful. Roughening up the surfaces with sandpaper, applying solder to the batteries under the straps and adding extra flux all helped to with the final outcome.


Ensuring the temperature sensor was in place finished the job.
After assembly, the vacuum cleaner was placed on charge overnight. Unfortunately, there is only one way to 'road test' these things – vacuuming! I had no trouble cleaning the entire house on one charge, which is a far cry from the 5 minutes I was getting previously.
If you are interested in this repair, you can see a video on my channel following the link below:

This article was prepared for you by Mark Rabone from Australia.
Please give a support by clicking  on the social buttons below. Your feedback on the post is welcome. Please leave it in the comments.
P.S- Do you know of any your friends who would benefit from this content that you are reading now? If so, forward this website to your friends or you can invite your friends to subscribe to my newsletter for free in this Link.
Note: You can check out his previous repair article below:
https://jestineyong.com/toaster-trips-house-circuit-breaker/
Likes
(

98

)
Dislikes
(

0

)