Electronic Ballast Repair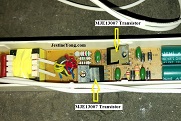 I have a fluorescent light fitting in my kitchen which has 2 fluorescent tubes. Some time ago one tube failed (or so I thought) and I didn't bother to change it as the kitchen was still brightly lit with just one tube. When the second tube stopped working I was forced to do something about it!. I changed both tubes with no success!
I eventually removed the light fitting and opened it up. Inside were two electronic ballasts. I immediately saw something was wrong when I noticed the plastic cover on one of them damaged through heat – see the pic below:



Upon removing the cover from the ballast I noticed that there was much to it. I measured the 2 switching transistors (MJE13007) and found them to be faulty. These were replaced with 2SC2335 transistors which I had in my components bin. I connected up one tube and the ballast and it worked fine.

I then removed the transistors from the second ballast and measured them. They measured fine, but the ballast would still not work. I eventually replaced the 2 switching transistors in this ballast as well and it worked. So the next time you have a problem with an electronic ballast from a fluorescent fitting open it and check before buying a new one. They can be expensive and more often than not they can be repaired.
This article was prepared for you by Mohamed Kikia from Durban, South Africa. He is employed full time as an Electrical Technician. He repair switched mode power supplies, coin comparators, arcade game monitors, LCD monitors and other electronic devices which people bring to him in his spare time an over weekends.
Please give a support by clicking  on the social buttons below. Your feedback on the post is welcome. Please leave it in the comments.
P.S-If you enjoyed reading this, click here to subscribe to my blog (free subscription). That way, you'll never miss a post. You can also forward this website link to your friends and colleagues-thanks!
Likes
(

137

)
Dislikes
(

2

)