Electronic Circuit Turning On Itself Repaired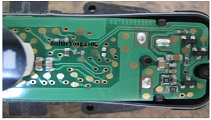 A customer called me about a device that he owns. He explained that during the night he woke up to a sound of a machine working which he realized later on, it was his hair trimmer.

The guy is a computer engineer who graduated recently from a college in Germany.
He had this trimmer for a while and now it is acting up. He brought the device to my shop for repair.

It took me a while to figure out how to get this machine opened but finally I figured it out by taking the bottom hidden screw off then the whole thing was easy after that.

As I was taking this device off I started to realize the cause of this machine working on its own.
If you look to the body of the machine you would see some water damage issue appearing.

When I finally got to the main board I could see the water damage effecting some pins and components that needed some attention.

I have cleaned all these marked areas with IPA and then re soldered all the parts that needed soldering. My main focus was on the power switch and for that I used contact spray which made it look nicer and working better.

The motor is rusty on the outside but on the inside was fine but I sprayed some contact spray there and powered the machine for a while to lubricate it and it went really well.

I put the machine back together; I let it sit in my shop the whole day and it did not work on its own. I called the customer to come and pick it up and to give it a try. The repair has been done about two weeks ago and I did not get any call from the customer regarding this repair which makes me assume that everything was working fine.
Mission Accomplished.

This article was prepared for you by Waleed Rishmawi, one of our 'Master Authors' and currently working in the Bethlehem area of Palestine repairing electrical and electronic equipment.
P.S- Do you know of any your friends who would benefit from this content that you are reading now? If so, forward this website to your friends or you can invite your friends to subscribe to my newsletter for free in this Link.
Note: You can check his previous article on LG LED TV Logo Stuck Repaired
Likes
(

71

)
Dislikes
(

0

)