Electronic Stores Near Me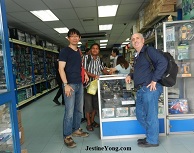 If you are searching for all electronic stores, shops or online mall to look for supply, gadgets and repair parts that is near to your place you can actually visit the link below:
https://www.jestineyong.com/category/electronic-suppliers/
Those websites I have compiled throughout all these years for your convenience to find your electronics store that is close to you. As for my country, the nearest place is about 45 minutes drive from my place and I don't visit the the center all the time. Usually I will go there 3 to 4 months once.
Sometimes, after the training class I will bring my students to visit the place (Pasar Road in KL) so that they will have the exposure of where the place is and things to buy before they go back to their own countries. You can take a look at the photo below. It was taken on November last year and they had fun shopping around the electronic stores.

Actually there is another electronics shop that is nearby my location, but the things that they are selling was not that really complete. For example, they sell only few brands of  digital and analogue multimeter but they do not sell digital capacitance meter. Some common parts like the Schottky Diode and IC, they do not sell. As for me, unless if I'm getting capacitors, linear transformer and some common general purpose diodes then i will go there and buy.
In many occasions, I rather buy electronics parts from online stores because those websites like Aliexpress or even ebay.com have more choices and adding all the parts with one shipment would reduce the overall shipping price. Usually I would choose DHL service because it would just take 4 to 5 working days to reach my office front door. Of course you have to pay a higher price for the shipping cost. I can actually gain/contra back when ordering online because I do not need to pay for the car petrol, parking, toll and most importantly is the time I could save from going to the center of town.
Do you buy from local electronic stores or prefer to buy online?
Likes
(

10

)
Dislikes
(

0

)