EXACHRON DCF77 Time Pulse Receiver Repair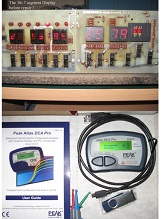 My friend Pro Watchmaker Charles requested me to have a look into his old EXACHRON DCF77 Time pulse receiver. DCF77 is the European standard time signal that is transmitted for synchronizing Radio controlled Clocks. Send from the neighbourhood of Frankfurt Germany, Mainflingen, which can be recieved over a distance of around 2000 KM. (Which is a distance from Ireland to the Polish border). This Receiver was build with mostly old TTL ICs and the manufacturer (in Braunschweig Germany, where also many Amiga 2000 Computers were assembled lateron in the 80- 90's) apparently used the wrong Solder. And almost none of the many TTL ICs were AC decoupled on their Power lines.
And although it is in today standards far more efficient to make a DCF Atomic synchronized receiver with only a microcontroller it is a nice item to Display and Look at if all Display 7 segments work. (which I programmed and build around a small PIC microcontroller in 2007 which was Published In Elektor December of that year). Below the displays on the front.

It also would consume far less energy too. Even a modern 16 x2 LC Display wouldn't need this much current as the MAN 72 7-segment Displays used in this EXACHRON Time receiver. To see if the 7-segment displays or if the TTL driver ICs (7447 types) were defect I started by removing the 3th (green circle) display from the left. And I examined the Datasheet of these MAN72 displays and instead of connecting a DC voltage with a max limited current of 30 mA to the pins to see if the segment they represent did light up, I used another much better and quicker method.
I used my PEAK DCA75 Pro Tester to see if all segments were okay. Because this tester can't damage the Leds, it also gives a oscillating signal so it doesn't matter were we put the positive or negative sides of our DCA75 Test leads. It always works no matter how we connect 2 of the 3 Testlead Wires of our Tester!

It turned out that the removed display was okay but the TTL 7447 driver wasn't. So I replaced it by a good 7447.

I first used my universal portable IC Tester (plus Zener, Opamp and Optocoupler etc. Tester). And to make sure the 7447 was indeed defect I also used my Elektor IC Tester that was published in 3/'98.


Last 2 photos showed how bad the Solder and the used PCBs were on the Display Solder side. The used flux was brownish and never properly cleaned. And the top photo of both showed the PCB with Display 3 from the left already removed.
After I had replaced the 3th 7447 Bad TTL from the Left next photo was the result:

It clearly shows a '0' (Zero) now. And before only segment F worked.
Sadly I only had one 7447 left that wasn't defect because the 7 TTL ICs in the next photo all tested Bad! And the question is if we still can buy these old ICs? And we need 8 more to fix the other Displays too.

Next photos show more of this unique device:



Previous photo showed the 3th 7-segment display that turned out to be okay.
And next follow some schematics of this receiver
Sadly the Display schematics are missing and maybe they turn up somewhere on the internet. Or maybe one of our Readers can help my good friend to complete his documentation? Anyway the following documentation also could help others.



Here is the complete schematic diagram of DCF receiver Tina V11  :

Until another interesting repair!

Albert van Bemmelen, Weert, The Netherlands.
Please give a support by clicking on the social buttons below. Your feedback on the post is welcome. Please leave it in the comments.
P.S- If you enjoyed reading this, click here to subscribe to my blog (free subscription). That way, you'll never miss a post. You can also forward this website link to your friends and colleagues-thanks!
Note: You can read his previous repair article in the below link:
https://jestineyong.com/how-to-repair-laptop-batteries/
Likes
(

70

)
Dislikes
(

1

)