Examining And Testing A Small Universal FDC To USB Adapter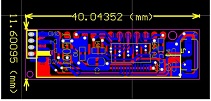 A few months ago I bought a very small but almost complete 26 pins Floppy Disk to USB Controller interface (FDC to USB). It was originally designed to work with a 26 pin flatcable floppy drive. And the small adapter interface board had only the Vcc (5V), D- , D+ (data) and GND (0V) on the USB 4-wire cable connector marked. All other 26 flat cable connector pins were unmarked. And only 13 of the connector connections were separately placed with solder pads for the intended interface connections. Which were pins 2,4,6… up to last pin 26. The 13 uneven other side connector pins 1,3,5… up to pin 25 are connected to +5V or to ground, or unconnected, and are of no concern to us to determine the active interface wire functions.
No instructions were included at all. And the only 26 pins floppy drive I had was sadly wider than the 26 pin flat cable connector that was used on the FDC adapter interface. And soon after I got the ordered adapter, I got 6 more from a friend who noticed they were incompatible with the standard 34 pins FDD connectors. And he also had no idea how to use them with a standard 34 pin FDD.
Next screen copy shows this UF001F interface board on a website that showed a very high over-priced example of this board.

Although this small interface design with the tiny 28 pins CMOS controller chip is a real miracle that is worth good money, for above price they could almost include a matching Floppy Disk Drive!

Previous photo showed the 13 even connector pin pads that are the real active interface connections. After examining many photos of other 34 pin to 26 pin interfaces I found out that the first pin on the right of the 26 pin connector is pin 1. Which makes the first pad on the right pin 2 etc.
So still without instructions on how to exactly connect this masterpiece of an interface to a standard 34 pins FDD is a problem. And because that information was not yet published I just started testing this FDC with one of my 3.5 inch FDD's. Below photo shows how I connected a pin to all pads on which I then easily could plug on the Arduino style Female to Male wires to make connections to a standard 34 pin Flat cable. Next photo shows all connections I made after I was finished.

The 4 wire usb cable connected with red wire to +5V, black to GND. And white to D- (right next +5V), green to D+ (right next to GND).
And if we only use the even pin inputs on our 34 pin cable (which we'll know when we measure the uneven connector pin side 1-33 that all are only connected to ground) we can find the right pins for our interface configuration. Of course I also found several 26p to 34p circuits too but they all were wrong in pin numbering and because none of them did really function! A Yamaha interface had the 26p pin numbers the wrong way numbered, and none of the circuits in the tests worked because pin 10 DRIVE SELECT 0 on the 34p connector never worked. And after more tests I finally found that only pin 4 DRVSEL of the 26p connector to the 34p connector pin 12 DRVSEL1 worked!




Above pcb design was the only thing that one of the sellers shared on information. What 28 pins smd chip is used still remains a secret!
Next photo shows all pin functions of the small interface board after I knew that the interface worked by successfully reading and writing floppy disks on several different 3.5" drives. Plus it shows the label of the first 34 pin FDD that worked. A Sony drive. Of course provide your FD drive with its own usual 4 pins power supply (so don't use the 5V from your computer USB connection for it!).

After all connections were made to the standard 34 pin FDD connector, including using pin 12 DRVSEL1 instead of DRVSEL0 pin 10 the only thing that took some time was installing the right FDD driver. As soon as the FDC interface board is plugged into the PC USB port that TEAC 001 driver is almost immediately found. But the FDD driver is next which may require some more runs and maybe a Windows reboot. But if that is done path DRIVE A: is straight added to the desktop file search options. Below follows a short spec list (in Dutch) of this nicely designed FDD USB interface. That for the technical part also explains the 12 MHz circuit speed, current in use, and max operating voltage.


Above photo of one of the now successfully working tested FD drives on the right also shows the pin functions on the even connector pinrow. The odd 1 to 33 ground pins are mostly the bottom row pins of this drive connector when the drive is correctly horizontally placed with the shown side on the photo being the bottom side. Last screenshots show the successfully offline installing of the FDD Windows 7-32bit driver. But I also tested this interface successfully on my Windows 10 laptop.

And in case that your FDD didn't work on the 34 pin connector selected DRVSELB 12 connection (which in my case was when a direct connected flat cable without twisted wires was used). Then simply try DRVSEL0 pin 10 instead.
I now also will mention all 34 pin cable connections because other pin configurations were wrong and not the ones I used here. As mentioned before GND for all pins 1,3,5,7, to pin 33.
Pins 4 and 6 N.C., pin 8 Index, pin 10 Drivsel0 (not used in my case), pin 12 Drvsel1 (used),pin 14 N.C., Pin 16 Motor, pin 18 Dir, pin 20 Step, pin 22 Wdata, pin 24 Wgate, pin 26 Track0, pin 28 Wpt, pin 30 Rdata, pin 32 Side1 , pin 34 Ready.
Now that all FDC interface connections are known, installing the Windows driver is probably the only thing that may not instantly work. In that case also try another USB port on your computer that can solve remaining issues. I used one of the 2 USB hubs on my externally to my quad-core PC USB 3.0 port connected Seagate 4TB HDD, which worked perfect in very fast reading and writing with all inserted 3.5 inch floppy disks.

However in case you keep getting the screen message to format the not empty good floppy disk, know that you are almost there with finding the right connections and installed Windows driver. Because I got that annoying error previously too! But in the end managed to get everything working, and now record its success by writing this article!

Albert van Bemmelen, Weert, The Netherlands.
Please give a support by clicking on the social buttons below. Your feedback on the post is welcome. Please leave it in the comments.
P.S- If you enjoyed reading this, click here to subscribe to my blog (free subscription). That way, you'll never miss a post. You can also forward this website link to your friends and colleagues-thanks!
Note: You can read his previous article on How To Obtain EEprom Bios Firmware
Likes
(

44

)
Dislikes
(

1

)