Explosion In Desk Telephone (Part 2)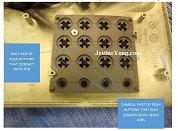 In part one of this article the VDR of this telephone was exploded because the owner by mistake connect the telephone line to 220 v AC out let and caused explosion.by replacing of exploded VDR with a good one and also found bad solder joints in the solder side of pcb and re soldering of all the bad joints telephone returned to life. But after a month the set returned to workshop again by owner with this new compliant that dialing numbers are not working properly and need to much pressure by finger on dialing numbers when user wants to make a dialing for a telephone call.

This problem comes up just because of the erasing of the chemical compound   SILVER NITRAT AG NO3. that is  covered inside of push buttons this  chemical compound is very good conductive for  electricity and when someone push a number actually connect the end of the button to the pcb circuit of same number and a good conductivity connect all the circuit of pcb for that special number.
In the electronic market I found a  special pad that was made for this model of telephone dialing numbers and by installing this pad under dialing numbers  the problem solved  this new pads fundamentally repaired the telephone problem


this pad specially is made for this model of panasonic telephone I installed the above pad  over the
dialing button underneath but conductive side must be face to printed circuit on the pcb


after installation of this pad over the button key  pad if one push number 2 of dialing numbers  for example  actually just pushing the conductive layer to the circuit pcb of number 2 ,and there is no need to push dialing numbers too much because there is enough conductive available to make a good contact on pcb circuit and dialing ic will satisfy to reached this much electrons this time and accept to send code number two to the telephone center, low cost repair but with great satisfaction of owner of telephone  was reached this time.

This article was prepared for you by Mr Beh from Iran
Please give a support by clicking on the social buttons below. Your feedback on the post is welcome. Please leave it in the comments.
P.S-  If you enjoyed reading this, click here to subscribe to my blog (free subscription). That way, you'll never miss a post. You can also forward this website link to your friends and colleagues-thanks!
Note: You may check out his previous repair articles in the below link:
https://jestineyong.com/alkatel-desk-telephone-id-caller-repaired/
Likes
(

58

)
Dislikes
(

2

)