Explosion In Telephone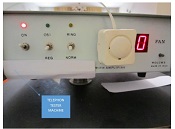 I received this telephone that was not functioning properly. I plugged the telephone to my telephone tester some of the dialing numbers were not functioning as well as ringing problems. I opened the set by 5 screws.


Inside I faced with a very terrible picture of an explosion of the protection circuit that was responsible of  stopping the 220 volt AC and protected the set by opening the sensible fuse by the act of explosion and stopped the rush of 220 volt inside the telephone. By experience I knew that the component that responsible for protection of telephone is a VDR  this is (Voltage Dependent Resistor) or a Varistor.


The code number is 07D201K  or 130volt  VDR this VDR up to 130 volt AC act like a wire but if the voltages goes more act like a fuse and by blowing itself protect the telephone from 220 volt AC .
But my question was if the protection circuit has done the job on time why the telephone is not working properly. By close looking on the solder side of the motherboard I found many bad cold solder joints. I resoldered all of the bad joint and after that I tested the set with a telephone tester, The tester showed ok which mean the telephone was working fine.

I told the owner of the telephone that he must take special care and do not plug the telephone to the AC outlets any more. Of course I installed a new VDR in the same place of the exploded one.

The telephone came back to life again after replacing the VDR and resoldering the board.
NOTE- This telephone tester is a local made machine that can test the ringing of the telephone by sending the ring pulses. It also test the dialing function by showing the number on display as well as checking the microphone and speaker of telephone. I did not found something like this in Amazon.
====================================================================
Update: Since many of you asking for the telephone tester diagram, so I opened it and found that the ICs part number was erased. Due to this, I'm not able to provide  the complete diagram to you. Below  is the photo of the telephone tester:


This article was prepared for you by Mr Beh from Iran.
Please give a support by clicking on the social buttons below. Your feedback on the post is welcome. Please leave it in the comments.
P.S-  If you enjoyed reading this, click here to subscribe to my blog (free subscription). That way, you'll never miss a post. You can also forward this website link to your friends and colleagues-thanks!
Note: You may check out his previous repair articles in the below link:
https://jestineyong.com/desk-caller-id-telephone-repaired-part-2-model-geepas-gtp7214/
Likes
(

53

)
Dislikes
(

0

)