External ADATA HDD Repair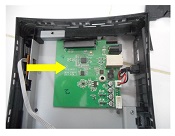 This external ADATA HDD Model Nobility NH03 was brought to me and the complaint was never recognized in any PC.

First thing done was to check on the external PSU (Power Supply Unit) of this device with the Digital Multimeter.

As you can see, the V-OUT was correct, by reading the specifications of the manufacturer in the label.
So now was the time to open the plastic case of this device, it was a difficult and serious task:

The inner HDD brand name was SAMSUNG Model HD154UI with a capacity of 1500.00GB (1.5TB)

The HDD was extracted and tested in a PC and the result was 100% satisfactory; all the partitions were showed in the PC perfectly fine with all the information. So now I had to focus in the PCB of this device.

The PCB was connected with the PSU and when it was turned on by means of the switch; it did not turned on at all (the blue LED that acts as an indicator did never light). The PCB was extracted from the box and analyzed carefully with the DMM (Digital Multimeter).

There was no electronic components burnt or damaged at simple sight. The V-IN was measured from the connector to the PCB and there was 12.15v. Now the fuse was tested with the DMM (in continuity position) and it was fine, but when it was tested with voltage, there was no voltage on it (F200). So the culprit was the connector of the V-IN.

The contacts of the V-IN were tested and it was not commuting one of the contacts when the jack was introduced on it.

As I did not have the right spare, then I decided to make a jumper by means of a piece of wire.

I continued checking on the device and could realize of a loosen connection in one of its connectors.

The metallic contact was extracted from the connector and soldered carefully.
It was put in its own connector and everything was connected, the device was turned on, look at the result.


This time the unit really turned On perfectly and the disk was loaded perfectly in a PC with all its partitions (F and G in this specific case) and with all the information.

This article was prepared for you by Humberto Rodriguez, one of our 'Master Authors' from Cuba
Please give a support by clicking on the social buttons below. Your feedback on the post is welcome. Please leave it in the comments.
P.S- If you enjoyed reading this, click here to subscribe to my blog (free subscription). That way, you'll never miss a post. You can also forward this website link to your friends and colleagues-thanks!
Note: You may check his previous repair article in the below link:
https://www.jestineyong.com/160-gb-sata-maxtor-hdd-repaired/
Likes
(

88

)
Dislikes
(

0

)