Faulty Transistor Caused LED Blinking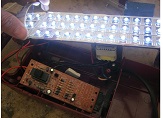 As I was going to buy something from the nearby market, an old man who is a certified electrician asked me if I repair an emergency LED light devices because they are so cheap to buy and he was wondering if I am willing to waste my time on it. I smiled and said; of course I will take a quick look at it and see what I can do.

The device was already open and I could see some work done inside the device.
As I understood from the man that when he connects it to a battery source, the LED lights blink on then off and stays that way.

I powered the device up and right away I could see the LED light indicator that it was charging. I measured the reading at the positive and negative terminals of the wires that go to the battery; I got about 13 DC volts there which is another indication that the right voltage is reaching the battery for charge.

Once all these tests were done, I started to check if there are faulty LED lights because it there was one light that is shorted, it will cause the other lights to shut down but all lights checked fine.

I could see a fuse resistor and a glass fuse on board but both of them checked fine. I traced the wires that go to the LED's board and I could see three wires, black for ground, red and blue for positive voltage. The device has two light settings which require two positive wires connected to the LED's board.
I found a transistor with part number Ss8050 shorted (marked with an arrow) and I believe that was the cause of this device not coming on.


Click here or the above photo to access SS8050 Datasheet
I took that transistor off board for testing and sure enough it was shorted and needed replacement.
These kinds of transistors are found in the microwave oven boards and since I have plenty of them in the shop, I replaced it right away and powered on the device. Take a look

Mission Accomplished.

This article was prepared for you by Waleed Rishmawi, one of our 'Master Authors' and currently working in the Bethlehem area of Palestine repairing electrical and electronic equipment.
P.S- Do you know of any your friends who would benefit from this content that you are reading now? If so, forward this website to your friends or you can invite your friends to subscribe to my newsletter for free in this Link.
Note: You can check his previous article on Movement Drift On A PS4 Controller Repaired and Maintained
Likes
(

75

)
Dislikes
(

0

)