Fixing Universal Board In SHARP LED TV LC24E156M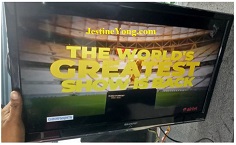 This is yet another case that I had the chance to attend to during my periodical visits to my techie friend who focused on panel bonding works. The mother board of this TV was beyond repair due to a lightning strike (another natural friend for technicians whose income dependent solely on electronic service! Other natural friends are lizard, fungi, rats and sometimes even snakes apart from power supply surges!) The suggestion for fixing a universal board in the TV was accepted by the customer and I was given the task which I undertook with a lot of joy, like a child getting an ice-cream Choco bar! (LOL)
The first and foremost thing to do was to check whether the backlight would work well. For that, we need to provide a power on potential, tapping it from the 12V through a 10K resistor. Sometimes, in sets like Sony, we may have to connect power dim, and any other backlight adjusting connections also without which backlight would not get switched on in such sets. When this was done, the backlight was not working as the LED driver had got affected. So, a universal LED driver board was provided and checked, upon which the backlight was found working very well. So far so good! For connecting the panel to the universal board, we need 12V supply, LED backlight connections [LED+, LED-, Power on], speaker connections [left and right channel with the ground wire], control panel connections [IR + Power on indicator LED connections]. To begin with, I provided two long wires for 12V supply [+ and ground] that would reach the UB (short form used for Universal Board) which would be fit on the outside of the back cover. Then soldered three wires to the universal LED driver board [+, ground and power on] ensuring that the length would reach the UB. Then joined the two black wires of the speakers to make it one and soldered one red (for Right channel) and white (for Left channel) wires making sure that these three wires would reach the UB. From the control panel, IR pins were traced for 5V supply, ground and data output. Same was done for LED. These wires were also extended to reach the UB. All wires were put labels in order not to make any fatal mistakes while joining to the UB. The jumper setting was adjusted for 12V panel. It has provision for 3.3V, 5V and 12V. This is very important.
Next job is to make space for fitting the UB holding case. It has a bottom and a lid, which can be easily screwed on to the back cover. In order to ensure that the case sits firmly and properly so as to enable input connections such as USB, AV and HD, a piece of the top of the slot were cut off. Then all these wires were soldered to appropriate places marked on it and UB was fixed firmly. The cut piece was glued on from the bottom later to cover the open area. The LVDS cable was long enough to reach the panel. We need to check the power supply side of the cable both at UB and panel and match it properly. You can follow my statements very easily from the following pictures: (Please use control and upward arrow for zooming)

Then the power was applied, after rechecking all connections. My friend adjusted the resolution and other essential settings such as backlight blue on standby, directly getting on without a need for remote operation etc. The picture was damn good! You can see the result yourselves:

The back cover was fixed after testing it for some time and the set was left on continuously for aging test.
Mission accomplished adding satisfaction to the bag! As for me I earned experience and money too!

This article was prepared for you by Parasuraman Subramanian from India. He is 72 years old and has more than 30 years' experience in handling antique equipment like Valve Radio, Amps, Reel Tape Recorders and currently studying latest tech-classes conducted by Kerala State Electronics Technicians' Association. He has done graduation in BBA degree, private diploma in Radio Engineering and retired as MD of a USA company. Presently working as Consultant to Hospital and other institutions.
Please give a support by clicking on the social buttons below. Your feedback on the post is welcome. Please leave it in the comments.
P.S-If you enjoyed reading this, click here to subscribe to my blog (free subscription). That way, you'll never miss a post. You can also forward this website link to your friends and colleagues-thanks!
You may check on his previous article on Rusted Push To ON Button Caused Permanent Display Of Menu In ZENITH CRT Monitor Model 56V
Likes
(

51

)
Dislikes
(

0

)