Found 4 Faulty Components In A Battery Charger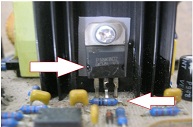 A guy who owns an electrical supplies shop brought this charger to my shop for repair. He explained that this charger was worked on before but for some reason was not able to bring it back to life.

It is a Bosch battery charger and that is a good quality one so I did not hesitate to look into it; I took it as a challenge since the other technician was not able to repair it. Let the fun begin.
Four screws on the bottom and the cover was lifted up and I was able to expose the disaster waiting for me inside, take a look

That is what I saw the moment the cover was lifted up and there is more.

For some reason, the diodes were cut while they were on board. That is strange.

This Mosfet was already de soldered off and was kept on board and my first thought; since all these components were found inside this charger, why the technician did not replace them to see if it works or not? I shared this thought with the shop owner and he explained; the technician did replace the parts but for some reason it was shorted again once it was powered on. Really? Because I do not see any evidence supporting his words. Well, enough talk let us start and get this device fixed.
First things first, I replaced all the diodes, the Mosfet which by the way was P5NK80Z but since I did not have this exact part, I replaced it with P6NK90Z with the same specs but higher in ratings and finally replaced the fuse.

Click hear or the above picture to access the STP6NK90ZFP Datasheet
I powered it through a current limiter and the charger did not come on but also the light on my current limiter stayed dim which means there is no short on board but I still have some defective parts to be found and replaced.

This is the Mosfet that I replaced and if you look near that you would find a fusible resistor (10 ohms) which I found open and replaced but the charger did not come on.

You can see the replaced Mosfet and the fusible resister and along that line I also found a faulty current mode controller IC (UC3842B) and replaced it right away.

Click here or the above picture to access the UC3842 IC Datasheet

These are the faulty components (diodes not in photo, sorry) that were replaced in this charger and through a current limiter I powered on the charger and …

Yes, the charger is up and running again and what a delightful sight it was.
I called the customer who came right away because he lives about two minutes walking distance and I could see the smile on his face.

Mission Accomplished.

This article was prepared for you by Waleed Rishmawi, one of our 'Master Authors' and currently working in the Bethlehem area of Palestine repairing electrical and electronic equipment.
P.S- Do you know of any your friends who would benefit from this content that you are reading now? If so, forward this website to your friends or you can invite your friends to subscribe to my newsletter for free in this Link.
Note: You can check his previous article on A Speaker System With Power Issue Repaired
Likes
(

81

)
Dislikes
(

0

)