Four HAVELLS Electronic Fan Regulators Brought Back To Life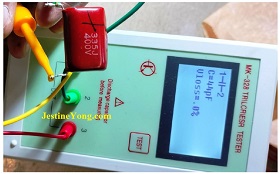 Four of these regulators were brought to me by my schoolmate with the complaint that all of them worked only at full speeds (position 5). I pried open the cover and removed the pot holding nut from the front and looked inside. This was a capacitor-resistor controlled regulator, unlike the SCRs we normally see, which is using a variable pot in it. The fans might make a small noise in lower positions in SCR circuits, whereas that problem will not be there in capacitor type regulators. There were steps for speed, using a one pole, five way PCB mounted rotary switch.
AC-in is connected to a common place and load is connected to the pole of the switch. (Unfortunately I forgot to click a snap of the PCB after I removed the caps from the top!) Three capacitors were connected with bleeding resistors and current dropping resistors. The values of capacitors can be seen from the following pictures. I also found one burst cap in one of the regulators.

I am sure you will notice that these are AC rated caps. Value of the caps were very much low indicating a short and I am giving picture of one such cap.

Since I have seen DC rated caps in many Chinese made LED lamps and torches, and AC rated caps of these uncommon values were unavailable in the market, I decided to experiment with DC caps of higher voltage ratings. The space was a constraint and I could not accommodate 600 or higher Voltage rated caps, which might have been safer. I fixed three 400V rated caps of same value and gave a load of 40W to begin with.
It worked well. Being confident that it worked, I replaced all the caps in the four regulators. Then tried with the same 40W Bulb as load. Can you guess what happened? It worked only for one rotation of the switch. At the next rotation, a couple of them just worked in position 3 or 4 only. The lower positions were all dead. So, it was not confidence, but over-confidence that made me replace caps in all the four regulators, without testing or re-testing it. Just see the reading of the caps:

Then I started hunting for AC caps all around India. Though I combed with all the known sources, none was having these odd values. Finally, in one of my web searches, I stuck upon a manufacturer located in Mysore. Though I was disappointed to see that they accepted only bulk orders (A mnimum of 1000 nos.!), I sent an email as well as a message through Whatsup and requested them to help me out with a minimum ordering quantity of twenty each. To my pleasant surprise, they responded positively! In fact, they went ahead and produced a couple of values, which were not in stock. Very nice gesture from their side! I am giving the link: http://www.elciarcapacitor.com/ They are exporters too.
I received the caps after a few weeks, upon which I replaced the caps in all the four regulators and tested it using a 100W Bulb, though the regulator indicated an 80W load. I am giving pictures of the readings after repeatedly testings:

(Kindly use Ctrl+Scroll to zoom in pictures) The voltage readings at five positions respectively were: 41.8 – 91.1 – 139.4 – 162.3 – 221.9. In cold test, the resistances shown in the same order were: 325K, 163K, 163K, 109K and 4.9Ohm. I am also giving below picture of the new caps received from the kind supplier.
As you might notice, I have used 255 in place of 245, as they were not manufacturing this. But that did not matter as the difference was very small.

I was very happy that I could do this help to my friend. Mission successfully accomplished with lessons learnt, which did not prevent satisfaction getting added to its collection. Here is a picture of the bunch of caps packed and kept ready to be passed on along with the regulators!

This article was prepared for you by Parasuraman Subramanian from India. He is 72 years old and has more than 30 years' experience in handling antique equipment like Valve Radio, Amps, Reel Tape Recorders and currently studying latest tech-classes conducted by Kerala State Electronics Technicians' Association. He has done graduation in BBA degree, private diploma in Radio Engineering and retired as MD of a USA company. Presently working as Consultant to Hospital and other institutions.
Please give a support by clicking on the social buttons below. Your feedback on the post is welcome. Please leave it in the comments.
P.S-If you enjoyed reading this, click here to subscribe to my blog (free subscription). That way, you'll never miss a post. You can also forward this website link to your friends and colleagues-thanks!
You may check on his previous article on Fixing Universal Board In SHARP LED TV LC24E156M
Likes
(

61

)
Dislikes
(

0

)