Frequent Failure Of IGBT In IMPEX OMEGA H5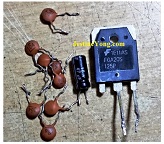 I am giving below the following link to read my previous article on the same Induction Cooker:
Power Flickering Caused IGBT Failure In IMPEX OMEGA H-5 Induction Cooker | Electronics Repair And Technology News (jestineyong.com) (12th January, 2021)
The cooker had an IGBT failure on 22nd December, 2020. It failed again on 7th June, 2021. This time, therefore, I repeated my work of lifting one leg of all the resistors and checked the value.

I did not find any variations. I removed the transistors and checked and did not find anything wrong with it. Anyhow, as I did not want to replace the resistors and transistors blindly like in many other cases I did, after having learnt a lesson as mentioned by me in yet another Induction Cooker repair article, I removed the fixed caps and checked. Then I found that the values of these were shockingly out. I am giving only two snaps of such cases found. Almost all the Fixed Caps were out:

I replaced all the fixed capacitors with more accurate Polyester capacitors.

Then I applied the power before replacing the IGBT, and checked the voltages of 78L05, 18V Zener and found these to be normal, fan was rotating and the controls were also working fine.

So, ventured to replace the IGBT. Connected the coil and just kept the top for placement of vessel and tried. It worked well.

So, assembled it back and took it to kitchen, when my wife tried and found it to be working very well. What caused IGBT failure? Was it due to these Fixed Capacitors?
Or was it due to power fluctuations? Well, I have no idea! I have done what best was possible that could fix the device. Let us keep our fingers crossed!


(One electrolytic cap you see was removed from the panel. Looks like I had overlooked replacing this last time. )
Satisfaction, of-course, was waiting for its turn to jump into the collection bag!

This article was prepared for you by Parasuraman Subramanian from India. He is 72 years old and has more than 30 years' experience in handling antique equipment like Valve Radio, Amps, Reel Tape Recorders and currently studying latest tech-classes conducted by Kerala State Electronics Technicians' Association. He has done graduation in BBA degree, private diploma in Radio Engineering and retired as MD of a USA company. Presently working as Consultant to Hospital and other institutions.
Please give a support by clicking on the social buttons below. Your feedback on the post is welcome. Please leave it in the comments.
P.S-If you enjoyed reading this, click here to subscribe to my blog (free subscription). That way, you'll never miss a post. You can also forward this website link to your friends and colleagues-thanks!
You may check on his previous article on Resistor Found Burnt In SMPS
Likes
(

62

)
Dislikes
(

0

)