Functions Of RC Snubber Circuit In SMPS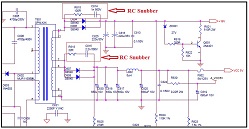 In my last article you have learned about the functions of the electrolytic and non-polarity capacitor (connected parallel) in the DC output line of a switch mode power supply (SMPS). In today's article I will show you another circuit that has two components (resistor in series with a non- polarity capacitor) that are connected parallel with the secondary output diode of SMPS. Let's take a look at the schematic diagram below. You can right click on the photo and choose "Open image image in Tab" to see the enlarged photo.

Figure 1
What is the name of such circuit?
It is called as snubber circuit but this circuit is generally called as RC snubber because it contains only a resistor and a capacitor. Snub means to brush off (or rebuff) and in electronics term it means to suppress.
Some snubber circuits like the one found in the primary section of SMPS is called as RCD snubber because it contains of a diode, a resistor and a capacitor (R1, C5 and D2) and the RC snubber circuit is C74 and R133. Take a look at the diagram below:

Figure 2
What is the function or purpose of Snubber circuit?
Snubbers circuits are placed across semiconductor devices for protection and to improve performance. It can do many things such as:
· Suppress over voltage (voltage spikes) and over current (current spikes)  due to parasitic capacitances and parasitic inductances, by using resistors to convert the voltages into heat.
· Discarding the energy stored in the leakage inductance of the transformer.
· Reduce EMI by damping voltage and current ringing.
Why some SMPS designs does not have such circuit?
Take a look at the diagram below where certain output diodes (D529 and D511) does not have the RC snubber at all but to some designs (please refer to figure 1 ), all output diodes must have the RC snubber circuits. It may be some design engineers find the snubber circuits induce more losses (reduce circuit efficiency) than the losses they try to avoid.

Figure 3
What is the common problems in the RC snubber circuit?
It is actually quite rare to have problems in these two components. If the capacitor is open circuit or the value run, it may not have direct impact to the DC output but if it is shorted then the resistor may get hot and the power supply may go into shutdown mode or you can't power up the power supply at all.  If the vibrant colour of the resistor already changed to a darker colour due to heat, the best is to replace with the same type and value of resistor.
If the output diode is shorted then it is always good to check on these two components also. It is always a good procedure if you found a bad component, check also the corresponding components. It may be that corresponding components that have killed the output diode.  Corresponding components can be any components that are located at the same DC output line of the shorted output diode such as the electrolytic and the non-polarity filter capacitors, inductors and etc.
Conclusion– By understanding each circuit functions in a circuit board, you will not be afraid of what you are actually looking at. Being said that, this mean the moment you hold the SMPS, your brain immediately will tell you that this is a RC snubber and you know the functions of such circuit and be able to test the components if they are faulty. This is why recognizing a circuit in a circuit board is so important and will eventually help you to speed up your troubleshooting work. Remember, to be a good repairer, you need to be able to understand many type of circuit functions in a circuit board and be able to recognize the components in those circuits. Well, that's all for this week and you are welcome to comment related to this topic.

This article is brought to you by Jestine Yong. He is from Kuala Lumpur Malaysia and he loved electronics repair and blogging about electronics repair information. He is the author of the famous Basic Electronics Repair and SMPS Repair ebook . He is also a trainer and conduct electronics repair courses at Noahtech Electronics Training Center.
Please give a support by clicking on the social buttons below. Your feedback on the post is welcome. Please leave it in the comments.
P.S- If you enjoyed reading this article, click here to subscribe to my blog (free subscription). That way, you'll never miss a post. You can also forward this website link to your friends and colleagues-thanks!
You may also interested in his previous repair article on the Functions Of Capacitors In SMPS DC output line
Likes
(

71

)
Dislikes
(

0

)