Fungus Attacked SMPS And Defective Loading Motor Found In IBELL IBL3288 DVD Player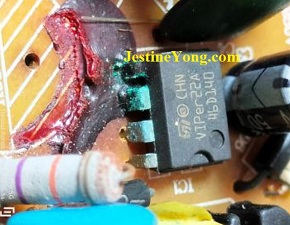 This DVD player belonged to a colleague in the hospital and was brought to me with the complaint that CD got jammed inside and it did not work. The funny part is that he got wild when it gave up in the middle of a program being conducted and he slapped the front panel and on sides with an effort to take it out. Result? The panel developed cracks and found broken in several places! (Anger is not a solution but a catalyst!)
I opened the player and subjected it to thorough cleaning after removing the CD. Then studied the extent of visible damages. Did not find any capacitors 'in the family way' (LOL)! As a routine practice, I replaced all the electrolytic capacitors on the power supply board, since I found ESR and values far away. When I removed the tank capacitor, I saw fungus attack on the pins of the Viper22A primary switcher and rust formation on adjacent components.

I scraped the dried gum and cleaned the area thoroughly. Replaced the resistor and controls buttons on the front panel as the button switches were found malfunctioning. After this when I powered the unit, the eject function was not working. I checked the voltage to the loading motor and found it to be present. The motor apparently was defective. I replaced it along with the belt as it was a bit loose.
Then the load and eject function was smooth. I also lubricated the tracks of the tray as well as the sliding motor with silicone grease and cleaned the eye unit with an IPA damped cotton bud. The Player worked very well but one channel of the amplifier was silent. I replaced all the caps on the Amplifier board fit at the rear and did a thorough retouching of the board. But even then one channel was silent indicating a failure of the IC TEA2025B. So I replaced it, upon which both channels were working very well.

Fit the boards back and also did patch work on the cracked front panel to the extent that was possible. Allowed a few CDs/DVDs to run to its full as a check for proper working of all functions including the sliding movement. Mission accomplished and satisfaction was only more than satisfied to find its deserving place! (LOL)
Here are pictures for conclusion of this article:


This article was prepared for you by Parasuraman Subramanian from India. He is 72 years old and has more than 30 years' experience in handling antique equipment like Valve Radio, Amps, Reel Tape Recorders and currently studying latest tech-classes conducted by Kerala State Electronics Technicians' Association. He has done graduation in BBA degree, private diploma in Radio Engineering and retired as MD of a USA company. Presently working as Consultant to Hospital and other institutions.
Please give a support by clicking on the social buttons below. Your feedback on the post is welcome. Please leave it in the comments.
P.S-If you enjoyed reading this, click here to subscribe to my blog (free subscription). That way, you'll never miss a post. You can also forward this website link to your friends and colleagues-thanks!
You may check on his previous article on Four HAVELLS Electronic Fan Regulators Brought Back To Life
Likes
(

55

)
Dislikes
(

0

)