GEDEME Fridge Protection Repaired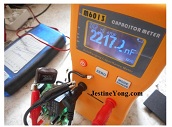 This Fridge Protector brand GEDEME (Cuba made) Model 010A was brought to me by a fellow worker with the complaint of always in Low (Bajo) voltage, even if the voltage in the AC line was ok.

First thing done was to dismantle the box by unscrewing four screws.

The PCB was de-soldered from the In and Out voltage cables and unscrewed from the plastic box, only two screws this time.

First thing done was to check on the capacitor in the AC-IN.

As you can see in the photo above, its value is 225J (similar to 2200nF) and as you can see the result given by my capacitor meter was ok.
Secondly the transistors (BC337 and BC 327) and the rectifiers diodes were checked with the DMM (Digital Multi Meter), the result?
The transistor BC337 had leakage between Emitter and Collector junctions.
Three of the four diodes (1N4007) had leakage too.
I decided to replace both transistors for similar ones. The four diodes were replaced too.
Note: If I only replace three diodes, I'm afraid the remaining one will breakdown soon. So replacing all the diodes will avoid call back.

When the new components were soldered into the circuit, it was tested in the AC-Mains and look at the result.

Now it's time to check on the AC output voltage (V out) to make sure the Relay is working fine too.

As you can see in the above photo, 119.7 vac output was measured. Mission accomplished.

This article was prepared for you by Humberto Rodriguez, one of our 'Master Authors' from Cuba
Please give a support by clicking on the social buttons below. Your feedback on the post is welcome. Please leave it in the comments.
P.S- If you enjoyed reading this, click here to subscribe to my blog (free subscription). That way, you'll never miss a post. You can also forward this website link to your friends and colleagues-thanks!
Note: You may check his previous repair article in the below link:
https://www.jestineyong.com/external-adata-hdd-repair/
Likes
(

77

)
Dislikes
(

0

)