GEDEME Fridge Protector Repaired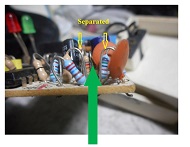 This Fridge Line Protector Brand GEDEME, Cuba made, model CD 3200 was brought to me fully dead, and it had been checked on by other tech.

First thing done was to open the device, only 4 screws.
And then when the Bridge Rectifier was tested with the Digital Multimeter there were two diodes shorted (1N4007). They were extracted from the circuit.

At this time the four diodes were substituted for similar ones.

When the device was connected to the AC-mains (110 volt in my country) look what happened.

The yellow LED named Voltage bajo (Low Voltage) was lit all the time and it never was off. So there was another malfunction in this device, so let´s check it again. Some components were checked on with the Digital Multimeter and look what I have found:

As you can see in the photo above there were two shorted-resistors, and both had no connection in the bottom side of the PCB. Both leads of these resistor were separated.
Note: I think this kind of situation could never happen if the manufacturer have a good quality check.

Afterwards when the device was connected into the AC-mains to check it on, look the result.

The red LED named En espera (Waiting) began blinking for about 3 minutes and a half, and later on look what happened in the photo below:

Now the green LED named Voltage normal (Normal Voltage) was on and the output voltage checked with the Digital Multimeter was 115. 2 volt. I´m used to check the output voltage (apart from Normal Voltage LED is lit) because the relay could be damaged and this way I´m sure there is voltage in the output.

This article was prepared for you by Humberto Rodriguez, one of our 'Master Authors' from Cuba.
Please give a support by clicking  on the social buttons below. Your feedback on the post is welcome. Please leave it in the comments.
P.S-  If you enjoyed reading this, click here to subscribe to my blog (free subscription). That way, you'll never miss a post. You can also forward this website link to your friends and colleagues-thanks!
Note: You may check his previous repair article in the below link:
https://www.jestineyong.com/toshiba-laptop-repaired/
Likes
(

114

)
Dislikes
(

1

)