Genius Way to Check Broken Wire In Cable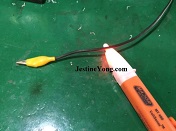 Here is a little trick I discovered while trying to repair a set of Headphones. I think it could be used for any type of cable, as long as it's not being powered from somewhere else.
I could clearly hear, when plugging the headphones into my Ipod, that the audio was very soft with almost no bass response present. I checked with an ohm-meter between the sleeve/ screen pin on the stereo plug, and the two signal carrying wires (Tip & Ring). I wasn't getting ohm readings here. I was however getting a reading between tip and ring. This meant the shield or braided wire was broken off in the cable somewhere.
The stereo jack plug they use, is a molded type. I wanted to find out exactly where the shielded wire was broken off. I then remembered I have one of those AC voltage detector probes.
They aren't that expensive.
I decided to use a piece of wire with a croc clip attached to one end, and the other end connected to my variac and isolation transformer. I set my variac to about 100VAC.
I connected this clip to the pins of the jack plug, one by one, and ran the detector along the wire to see when the light goes out.
Here you can see the probe detecting the 100VAC through the tip-pin of the socket.


NOTICE: NO GROUND RETURN NEEDED. JUST ONE CABLE WITH A HIGH VOLTAGE ON IT. USE AN ISOLATION TRANSFROMER FOR SAFETY!!!!!!!
When I connected HV to sleeve/ screen, the light stopped glowing right after the plug itself.
So, now I know I have a faulty plug, and I need to replace it.
Well, off to the electronics shop it is……..
See ya soon.
Hope this tip helps you.

This article was prepared for you by Riaan Diedericks. He runs his own electronics repair shop in Pretoria, South Africa. He specializes in Pro Audio repairs.
Please give a support by clicking on the social buttons below. Your feedback on the post is welcome. Please leave it in the comments.
P.S- Do you know of any your friends who would benefit from this content that you are reading now? If so, forward this website to your friends or you can invite your friends to subscribe to my newsletter for free in this Link.
Likes
(

68

)
Dislikes
(

0

)