Gerald Musy Came To Visit Me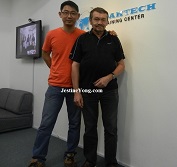 It was an honor to have Gerald Musy to visit me this morning. For your information he was born in Switzerland had spent his career in Electronics Customer Service, constantly involved in teaching and technical writing. He also had published several articles for an automation magazine in Australia and also wrote for multinational companies. Currently he is staying in my country Malaysia (Penang). Check out the recent article that he had published in my blog about building your own RF strength meter:
https://www.jestineyong.com/building-your-own-rf-field-strength-meter/
We had a good time of chatting about electronics topic for more than 2 hours.
I shown to him all my test gears. He left my place after we had our lunch at the nearby restaurant. Here are the photos taken this morning:


Likes
(

8

)
Dislikes
(

0

)