Glow Plug Control Module (J179) Problem On VAG Cars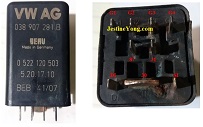 Hi!
In this article I will review a very common problem on VAG type of cars where many technicians firstly go into unnecessary repairing and maybe the entire problem is still not solved.
We are talking about the Glow Plug Control Module (J179).
VAG types of cars are using some sort of part naming and/or numbering for better over viewing and understanding the complete system. Therefore we have in this writing the label J179. If you use a VAG specific diagnostic tool then you can see a labeling like this beside the DTC (Diagnostic Trouble Code), but don't interchange this with the part number.
This is not a part number. If you would call an official VAG service they would probably know for what you searching for, but in many general automotive part selling stores they won't know what that mean. Most part numbers on VAG cars are arranged in four groups like this:
038 907 281 B this part number is actually the J179 module in this case. If you ask for this kind of part in any automotive part shop they would probably know what you asking for. This J179 is actually a sort of "smart relay" which is acting as a relay but controlled through the ECU (Engine Control Unit) but still have his little world inside because there is sitting a uC. The main purpose of this unit is to control the glow plugs in the car. Here is how this unit looks like and the pin out for it:

G1to G4-Glow plug, *87-power to device, 31-GND DI-diagnostic pin, 30-Battery +, SI-Control pin

* Just for better understanding what the pin 87 means check the "relay" picture above. Probably there is a more relevant naming the 87 in English but I hope you will understand…
If something is wrong with this unit or circuit the so called MIL (Malfunction Indicator Lamp) lamp will go on the dash board which looks like this :

Most of time when I scanned for DTC's with my diag tool I found a list of DTC's like this:

In this or similar case I pay attention to just one problem, which is triggering the other four problems. The P0684 code is actually the main reason why all other DTC's are there. In this case from where this DTC's are the J179 module was bad, burnt contacts and the connector where it was fitted also melted down.
The reason for this kind of overheating most of time is bad contacts and water entrance. Many now days car have problem with water draining systems and the control boxes where are the relays and many times also some sophisticated ECU's are fitted fulfilled with water. And here is a snap out of a VAG specific diagnostic tool reading. Where I read the same car:

As you can see the J179 is mentioned right there, but on the first list is not. That is because the first list was read with a general purpose diagnostic tool. The best diag tool is always the OEM diag tool, but the down side of that is, that you can't use that tool on other vehicles brand. I would prefer for car technicians to have a universal diagnostic tool and OEM diagnostic tools for most of the cars they deal with.
I hope you enjoy this tutorial and will save lot of repair time.

This article was prepared for you by Christian Robert Adzic from Novi Knezevac-Serbia.
Please give a support by clicking  on the social buttons below. Your feedback on the post is welcome. Please leave it in the comments.
P.S-  If you enjoyed reading this, click here to subscribe to my blog (free subscription). That way, you'll never miss a post. You can also forward this website link to your friends and colleagues-thanks!
Note: You can check his previous post in the below link:
https://jestineyong.com/noise-in-wire-how-to-successfully-remove-noise-in-wire-by-using/
Likes
(

61

)
Dislikes
(

0

)