Glue Gun Repaired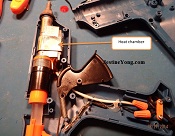 I was making some low voltage polarity checkers to give away as Christmas presents when my glue gun started acting up and not giving out very much glue. I made the mistake of not letting the glue gun heat up for 10 minutes before using it. Instead I started using it after only 5 minutes.
The mail didn't deliver my test leads in time, so I had to wait until after Christmas to make them. I've never worked on a glue gun before. After letting it cool down, I opened it up.

This polarity checker has a 3watt 2.2K resistor, so it will handle up to 48 volts easily. These are some pretty good 36 inch long test leads that I got from www.allelectronics.com for only $2.50 a set. I cut the banana plugs from the ends of them.

I took it apart and removed the swollen glue stick. Next time I need to let it warm up for at least 10 minutes like I'm supposed to. Pulling on the trigger before the glue gun was heated up enough made the glue stick swell up inside and not work properly.

There isn't a lot to a glue gun but I thought that maybe some of you would like to see the pictures of the insides of one in case you have not taken one apart.

Robert Calk Jr. is an electronics hobbyist from the USA that loves learning electronics and device repair.
                           Happy New Year!
Please give a support by clicking on the social buttons below. Your feedback on the post is welcome. Please leave it in the comments.
P.S- Do you know of any your friends who would benefit from this content that you are reading now? If so, forward this website to your friends or you can invite your friends to subscribe to my newsletter for free in this Link.
Likes
(

13

)
Dislikes
(

0

)