Hair Remover Laser Machine Maintained For Better Service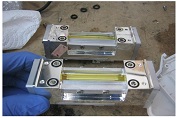 A lady brought this hair remover laser machine for maintenance. The handle was the part that needed the maintenance so that what she brought.

It is a China made handle and there is no brand name on it. The customer sent me a lot of videos about this machine especially how to replace parts and maintain the handle.
The customer brought me this machine before to replace the light in it about one month ago and now I have to replace the light again and the laser reflector part.

As I took the cover off I could see what I did in the previous repair but this time it is more challenging and time consuming.

I have to replace the top part of this piece which means disconnecting everything that is attached to this piece.

I slid the light bulb out of the piece, and then proceeded to take the top part off.

Top part off but the water hoses have to come out too.

I took the hoses off and marked where every hose go to with a magic water proof marker and proceed with the job.

This is the replacement part which is very brand new one. So far so good.

The new part installed, hoses attached back where they belong and proceeded to replace the light that actually slide inside this device I just installed.

The new light replaced, the red wire goes with the red and the black goes with the black, twisted the wire together and crimped together for better connection.
I put everything back together and as I was doing that the customer walked into my shop asking about the progress.
She took the handle and I went with her to the shop which is about five minutes away and installed the handle. Everything was running according to specs and that was a delight for this lady because she has a lot of customer waiting in line for her services.
Mission Accomplished.

This article was prepared for you by Waleed Rishmawi, one of our 'Master Authors' and currently working in the Bethlehem area of Palestine repairing electrical and electronic equipment.
P.S- Do you know of any your friends who would benefit from this content that you are reading now? If so, forward this website to your friends or you can invite your friends to subscribe to my newsletter for free in this Link.
Note: You can check his previous repair articles in the link below:
https://jestineyong.com/an-emergency-led-light-repaired/
Likes
(

47

)
Dislikes
(

0

)