Hand Drill Not Rotating In Dental Device Repaired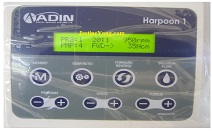 A technician brought this device for repair; he explained that the hand drill attached to the foot paddle that gives the command drill to rotate not working and needed a checkup.

With the hand drill attached to the foot paddle and the main device,
I powered it on and I got this message on the display of the device.

This is the foot paddle device that gives the command to the hand drill to rotate but something was wrong. The logical thing to do here is locate where the fault is; is it the paddle or the actual motor or the wiring? Let us investigate and find out.

According to specs, I was supposed to get 5 DC volts here and I according to my meter, everything according to specs.
The next step is to check the wiring and find out if I was getting the right voltages there or not.

This is the inside of the actual hand drill and as seen, the control pins and the voltage pin are located. If you look closely, you would see the V sign and when I checked for voltage reading there, there was none.

As seen in the photo, the red wire that supplies the voltage to the motor was loose and when I cleaned the area and re soldered the wire back, I got this message on the display. Take a look

Mission Accomplished.

This article was prepared for you by Waleed Rishmawi, one of our 'Master Authors' and currently working in the Bethlehem area of Palestine repairing electrical and electronic equipment.
P.S- Do you know of any your friends who would benefit from this content that you are reading now? If so, forward this website to your friends or you can invite your friends to subscribe to my newsletter for free in this Link.
Note: You can check his previous article on An Iphone 5C With A Bad Speaker Replaced
Likes
(

67

)
Dislikes
(

1

)