Havit Optical Computer Mouse Fixed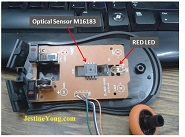 Received a mouse for repair and the Optical USB Mouse complaint was not working at all.

I have connected this mouse to my computer's USB port and there was no arrow pointer on my computer screen. In visualize inspection I have found the LED below the Mouse should be light up RED when you connect the mouse to USB port but here there was no light indication that means something was wrong with the mouse.
Hence I have opened the mouse for further investigation.

On visualize checking everything seems to look ok there is no burnout, dry solder or physical damage on PCB. So by plugged in USB I have checked working 5 Volt on USB connector on PCB (Here white wire is +5V and Blue is Ground). Voila!! 5V is missing on this pin that means something is damaged in between computer to Mouse that is USB cable.
I have checked this cable with multimeter continuity check and found both the wires were open circuit (white and Blue).
Most of the time in any electronic equipment color code of power or VCC wire should be red for positive and black for Negative or Ground. So now what is the option? I have decided to use USB cable from my Junk Box. I always dismantle the equipment which is not repairable and salvage the parts like cables, connectors' etc…  for this types of use.
Hence I arranged one USB Cable for one of USB keyboard from my junk box. Here I confused about Color code of cables because both were different (see the above photo). Normally color code is as follows.

For this confusion I have to trace the circuit for respected stage which wire going where? I have found the Data of M16183 optical sensor as follows.

Here is PCB side Pin out of Optical sensor

So through help of optical sensor IC Data I managed to hook up the USB wire

After soldering the cable I have connected the mouse to the computer I have seen light of life. Yes Red Led is lighted up.

Now I have assembled the mouse temporary to check whether it works or not on testing I found the mouse was working fine. Hence it is time for finishing work.
With the help of plastic cable tie I have tied the end of striped sleeve of usb cable to hold the cable inside the mouse and will not come out on strain on wire.

Now mouse is ready for work.

Thanks!

This article was prepared for you by Yogesh Panchal who works as a Computer Hardware Engineer in Mumbai India.
Please give a support by clicking on the social buttons below. Your feedback on the post is welcome. Please leave it in the comments.
P.S- Do you know of any your friends who would benefit from this content that you are reading now? If so, forward this website to your friends or you can invite your friends to subscribe to my newsletter for free in this Link.
Note: You can check his previous repair articles in the link below:
https://jestineyong.com/sony-laptop-with-distortion-display-repaired/
Likes
(

87

)
Dislikes
(

1

)