Here Are The Photos Taken In Beijing China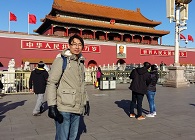 My family and I went to Beijing China on the 14th and came back on the 21st December 2015 (8 days and 6 nights trip). We took the Apple Vacation tour package and the group had about 32 travelers excluding the two tour guides. Before we went, it was reported Beijing had thick smog and the Air Quality Index (AQI) was about 300 to 400 plus which were very hazardous. Since I already booked this trip 6 months ago so I do not have choice other than to go ahead with the vacation. Thank God, when we came out from the Airport, I could not believe that there was no smog at all and the AQI reading was only 30 to 50! For the past 7 days we were in Beijing, we were blessed with blue sky and clean air!  On the 8th day just before we left Beijing we started to see smog. I just checked the AQI today and it was 425 (Hazardous)!
Ok back to the trip. During this trip we went to many places such as the "Forbidden City, Tienanmen Square, Ming's Tomb, Summer Palace, Great Wall of China,  Silk Street Complex (to bargain for goods), Live Kung fu Panda Wushu Show, Live Dance Opera Night Show With Acrobatics, Nanshan Ski Village, Panda Zoo and etc. The temperature was between 1 degree Celsius to minus 5 which was extremely cold. I wore five pieces of clothes and used lots of heat pad. For your information this was my first time to experience such a low temperature.
The tour guides brought us to many different restaurants to try out their local dishes and one of the famous food over there was Peking Roasted Duck. It was delicious! The number one reason why I took the family tour package instead travelling on our own was the arrangement. The tour company (AppleHoliday.com) arrange everything for you and you do not need to worry about the documents, hotels, food, places to visit and etc. You just enter the bus and enjoy the journey. If you are tired, you can take a short nap inside the bus and once it reached to another destination, you will have the alertness to visit the new places. Wishing all of you Merry Christmas and a Happy New Year. Here are the photos taken during the trip:


Forbidden City Of China


Inside the Forbidden City



Panda Zoo

Kung Fu Panda Wushu Show

Great Wall Of China


Ming's Tomb 


Mask Opera Painting



Traditional Village 

One of the Chinese Restaurants In Beijing



Nanshan Ski Village

Temple Of Heaven 
If you plan to go to Beijing China,  guess you need to check out this video:
Likes
(

42

)
Dislikes
(

0

)