Here's a Surprising Trick Repairing Hard Disk (HDD)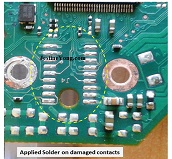 Received 1TB HDD for troubleshooting for not reading problem in desktop Computer.

Symptom: System showing error on Booting.

I have checked this HDD on another computer but the symptom is same.
Checked BIOS for detecting HDD in BIOS & found OK. So for further testing I have to remove the PCB of the HDD.

And on visual inspection I found very common problem for this type of error Gold plating contacts on PCB is oxidized.

As technicians always use the common trick for this problem is just taking a Rubber eraser and rubbing on the contacts. But as per my experience this process is temporary solution and you will get the same problem back in few days or months. So I have decided to try some another trick by applying solder on all the contacts.
(IF your HDD is still in the warranty do not attempt this process or you will void the Company Warranty on the Product) I have tried because this HDD is out of the warranty.
First I have cleaned the contacts by rubbing the rubber eraser. Then cleaned by applying IPA after drying the PCB I have applied soldering flux on the contact area and applied solder on the contacts and then cleaned it with Thinner. This trick is also applicable to Memory RAM gold oxidized Contacts by just taking care of layer of solder on it should very thin & of course memory should be out of warranty.
(Note: Use only 10 to 25W soldering Iron for this work or chances of damaging the PCB is very high.)

After completing the process I have put the PCB back on the HDD and connected the HDD to the Computer for testing.

 And HDD is back to the life.

This article was prepared for you by Yogesh Panchal who works as a Computer Hardware Engineer in Mumbai India.
Please give a support by clicking on the social buttons below. Your feedback on the post is welcome. Please leave it in the comments.
P.S- Do you know of any your friends who would benefit from this content that you are reading now? If so, forward this website to your friends or you can invite your friends to subscribe to my newsletter for free in this Link.
Note: You can check his previous repair articles in the link below:
https://jestineyong.com/blown-smd-resistor-in-digital-multimeter/
Likes
(

111

)
Dislikes
(

0

)