High Voltage Causes Explosion In 36 LED Light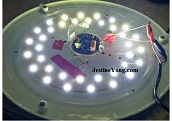 HISTORY: The customer brought this 36 LED light to me saying that he heard a big explosion in his car porch, and when he came out to look for the cause, he saw that this LED light was just hanging from the roof and the top cover was lying on the floor along with a few plastic pieces. He then decided to check with me whether it can be restored.

OBSERVATION: I saw one 2.2/400V Cap had burst; one LED had burst blackening around, a few other LEDs also showed puncture, which we can see only with a lens.
TROUBLESHOOTING AND RECTIFICATION DONE: First of all checked the Transformer using my Ring tester and found it to be ok. Desoldered the power supply wires to the LED Unit. Then replaced the burst cap. Connected to power through a Series Bulb, and got output of around 280V DC, which meant that the Driver Unit had life. So, disconnected the power, discharged the HV cap. Replaced the rest of the two Electrolytic Caps too. As the IC was not having its number on the top, removed and saw it at the bottom. (These are certain cheap tricks played by Chinese to hoodwink the technicians. No datasheet was found, as expected!) Then using an Analogue Multimeter, selecting X1 Ohms Range, checked which were the other LEDs that have gone bad. Found totally 8 LEDs had gone bad. All other LEDs lit when touched with the probes at both ends. Used my Max 8550 SMD Rework Station, setting the Temperature and Air to maximum and blew all these defective LEDs out. Since this LED strip has thick heat zinc underneath, this is the best way to remove the LEDs. After the plate got cooled off, cleaned the portions using IPA and soldered new LEDs one by one.
The method used by me was 1) Placed the LED ensuring correct polarity in its position. 2) Used a press to open tweezer to hold it in the centre 3) Soldered one end using 12V/25W pointed iron and touched the other end too. Repeated this until the LED was perfectly bonded. 4) Rechecked that the connection was proper and the LEDs were ok with the Analogue Multimeter like before. Then applied power and was happy to see the brightly lit LEDs! Tested it for around an hour. Then, fixed the board in its original position, like the customer had done and called the customer to come and pick it up. Mission accomplished and a 'bright' satisfaction jumped into the collection bag!
NOW LET THE PICTURES SPEAK:





This article was prepared for you by Parasuraman Subramanian from India. He is 70 years old and has more than 30 years' experience in handling antique equipment like Valve Radio, Amps, Reel Tape Recorders and currently studying latest tech-classes conducted by Kerala State Electronics Technicians' Association. He has done graduation in BBA degree, private diploma in Radio Engineering and retired as MD of a USA company. Presently working as Consultant to Hospital and other institutions.
Please give a support by clicking on the social buttons below. Your feedback on the post is welcome. Please leave it in the comments.
P.S-If you enjoyed reading this, click here to subscribe to my blog (free subscription). That way, you'll never miss a post. You can also forward this website link to your friends and colleagues-thanks!
You may check on his previous repair article below:
https://jestineyong.com/corroded-wire-caused-no-display-in-samsung-monitor/
Likes
(

66

)
Dislikes
(

0

)